Mathew Knowles Shares How Beyoncé And Solange Changed Their Lives Because Of Breast Cancer
The father and former Destiny's Child manager was recently diagnosed.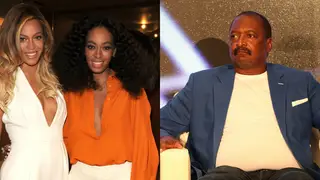 Mathew Knowles' heartbreaking revelation that he has breast cancer changed the outlook of his family — particularly his daughters, Beyoncé and Solange. The former Destiny's Child manager explained in a recent interview that the two music superstars have been taking care of their health, especially when it comes to cancer.
Speaking with heart.org, Knowles recalled the day in July when he first learned something was wrong. He explained that he peeled off his white undershirt and noticed a red dot on it. Thinking it was lint, he went about his day. However, the next night, he saw another dot on his T-shirt in the same area, near his right nipple. However, it was not until he saw it again, days later, that he mentioned it to his wife, who told him she had seen red spots on their bedsheets, days before. With this in mind, he squeezed his right nipple, and out came blood. Soon after, he learned he is one of the rare men with breast cancer.
The music executive explained that the disease runs in his family: his aunt and two first cousins on his mother's side, and his aunt on his father's side were all diagnosed. This got him thinking about his two daughters and his grandkids. According to heart.org, children of those with breasat cancer face a 50% chance of having the mutation, and each grandchild has a 25% chance.
Luckily for Knowles, both of his girls have been steadily monitoring their health throughout the years, and have made it a priority to get routine breast cancer screenings.
"I have let both Beyoncé and Solange be aware and know what's required," he said. "They proudly do routine screenings... Fortunately, my daughters have a wonderful team of experts that have certainly been vigilant in making sure and ensuring that they're OK."
Knowles added that, upon further testing, he learned that he has a mutation of one of the "breast cancer genes" called BRCA2. The site noted that, for every 10 women tested for BRCA mutations; only one man is tested, making it tougher for researchers.
Dr. Susan Domchek, a member of Knowles' medical team, added that, through Knowles speaking out about his diagnosis, more Black men will be encouraged to get tested.
"An influential Black man with breast cancer and the BRCA2 mutation. This is such an important story to share for so many reasons," she said. "This powerful story will impact and inspire so many."
Mathew Knowles has been diagnosed with breast cancer, the manager and entrepreneur revealed in a television interview. The 67-year-old father of Beyoncé and Solange Knowles recently spoke with Good Morning America for a segment that will air on Wednesday (October 2).
In a promo shared by GMA, Knowles is seen sitting across from host Michael Strahan, who asks him what it was like to tell his family about his diagnosis.
Mathew Knowles and Beyoncé's mother, Tina Knowles-Lawson, divorced in 2011 after 21 years of marriage. Tina has since married actor Richard Lawson while Mathew married Gena Charmaine Avery. His two youngest children, Nixon and Koi, are from his relationship with Taqoya Branscomb.
We wish Mathew a speedy recovery. Our thoughts are with Knowles and his family during this challenging time.