Funk Flex Confirms With Jermaine Dupri That Jay-Z Told Him To Turn Down Similar NFL Deal
He also gives details on Eric Reid and Colin Kaepernick's NFL settlement amount.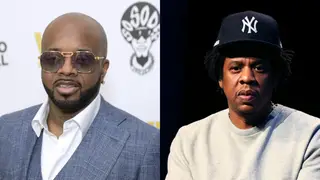 So far, Jay-Z has been getting flak from each and every direction after the announcement of his new multi-year partnership with the NFL. 
Now it appears Jay wasn't the first hip-hop mogul approached by the league with a similar proposition

Over the weekend, record producer and songwriter Bryan-Michael Cox aired his thoughts on the situation during a recent appearance on Loola TV. Hov's name came up around the 14-minute mark of the conversation.

The Grammy-winning songwriter revealed that Jermaine Dupri had initially been approached by the NFL with a similar deal less than a year ago. Cox didn't go into any details as to what the deal encompassed. Negotiations were nipped in the bud after Jay personally called Jermaine and advised him to decline the deal.

"I'm not saying it can't turn into [something] good," Cox said of the recently announced collaboration. "But we're also talking about a guy who single-handedly picked up the phone and called Jermaine to tell him not to do it. When we all had that meeting with the NFL, all that sh*t was part of the same s**t."

Cox held off on voicing any criticism against Jay directly, stating he would have to see how it 'unravels' first, although...

... he said that Colin Kaepernick and NFL player Eric Reid should be included in some capacity. 
"I'm not going to condemn it or be like 'That s**t's wack.' For me, I want to look at it intelligently because I know a lot of what was happening before and how we were engaged last year as a community," Cox continued. "At the end of the day, [Jermaine] took a beating for doing the same s**t. And, I guarantee you they didn't pay him as much as they are about to pay [Jay]." 

With that said, Cox's words ignited another debate in the ongoing dialogue surrounding Jay's NFL deal

On Monday morning (Aug. 19), DJ Funk Flex said that he spoke with Jermaine Dupri, tweeting out that he had verified the revelation with Jermaine himself. Flex wrote that he'd phoned the So So Def CEO, who confirmed that a conversation happened as Cox described. 

"I just got off the phone with Jermaine Dupri," Flex penned in all caps. "He confirmed that when he was working with the NFL last year he did get a call from Jay-Z asking him…'How deep are you in with the NFL?' expressing …'That might not be a good idea.'"

The veteran DJ later posted a lengthy diatribe regarding the matter on his Instagram

In the social post, he unpacked some of his sentiments surrounding Jay-Z's deal that have been weighing heavily on his mind. Flex highlighted the sacrifice Colin made when he used his platform to open a dialogue on police brutality, alleging that Colin and Eric received $10 million from their NFL settlement that mostly went to their legal fees. With that perspective, Flex felt that Jay's assertions that the movement is "past kneeling" was a slight toward Colin's efforts.

"We are never past kneeling. The 'fear of the kneeling' is what pushed the NFL to get more aggressive with unlawful tactics," the Hot 97 radio host stated. "To dismiss his efforts in front of the NFL Commissioner (the one who spearheaded the Colin corruption) was an extreme slap in the face!" 

Describing Jay-Z as the Michael Jordan of hip-hop...

...Flex further reflected on the optics of the league using Jay-Z's prominent status as the "strongest African-American possible with credibility" to clean up its image ahead of the upcoming season

"If [Jay-Z] saw what we all saw in the press conference and feels working from the inside while being paid and receiving a 'stake' in a team is the answer and can spearhead social justice from the inside he is our HERO for life!!!!," Flex penned.

"BUT, if [Jay] and the air personalities/social media influencers that [Roc Nation] manages or wants to be managed by them have spun the 'believe in [Jay-Z]... give him a chance' campaign to line pockets... this will be remembered and NOT swept under the rug in a few months! TRUST! Time will tell!"

So far, neither the NFL nor Jay-Z have gone into the specificities of their partnership.

As Flex says, time will have to tell.