Here's Why Lamar Odom Has the Kardashians Scared AF
The reality TV family is shook.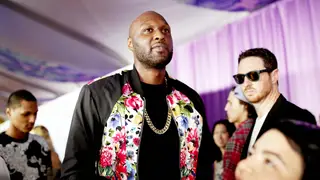 Now that Lamar Odom is on the straight and narrow again, he reportedly has something up his sleeve and it involves exposing the family that he was once majorly a part of.
According to Hollywood Life, the NBA icon is set to pen a tell-all book that could "divulge major Kardashian family secrets" and his ex-wife, Khloé, reportedly isn't happy.
The site reports that the former Los Angeles Lakers star has confirmed the news that he's writing the tell-all "about his life," and the Kardashians are allegedly shaking in their boots as this can turn out to be a huge blow for their family.
"They're all very concerned about this tell-all book and have reached out to ask him to be respectful," a source reportedly said.
Though, in recent times, especially after his major health scare, Lamar has sung the Kardashians' praises, they do believe there is room in there for him to go a more negative route.
"Lamar has spoken recklessly about [Khloé's] family in the past," the source continued. "Khloé fears what major secrets he could reveal. While Khloé and the rest of the Kardashians try to live a good life, they are no saints. Like any family, they have skeletons in their closet which could seriously hurt their brand if revealed."
Making it clear that nothing is off limits, Lamar allegedly told reporters that "everything" is up for discussion in the book.
Get more Lamar Odom news with BET Breaks, above.