Prince Be of P.M. Dawn Dies at 46
He passed away in his home.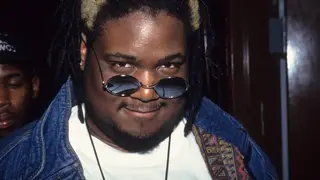 Attrell Cordes, better known as Price Be of P.M. Dawn, has passed away at the age of 46, TMZ reports. The singer died in his home in New Jersey from renal kidney disease.
P.M. Dawn, which consists of Attrell and his brother Jarrett Cordes, saw the height of their fame in the early '90s with the hit song "Set Adrift on Memory Bliss."
Attrell was credited with writing the song, along with Gary Kemp of Spandau Ballet as the song was built around a sample from his 1983 hit, "True." "Set Adrift on Memory Bliss," hit number one on the Billboard 100 and reached number three in the United Kingdom.
According to his Facebook page, Cordes had been living with diabetes. A message posted today reads, "Prince Be Rest In Peace forever more, Pain from Diabetes can't harm you anymore." Kidney failure is a common effect of diabetes.
His death marks the loss of another artist in a year where we have seen some of our most influential musical icons pass away. 
Cordes is survived by his wife, Mary, and three children. Our thoughts and prayers are with his family and friends in this trying time.