Kanye West Announces He's Changing His Name Via Twitter
This announcement comes with his new music.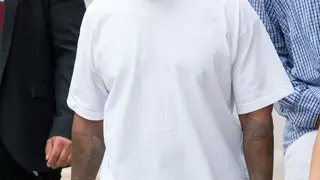 Guess who has a new moniker? Well, tonite we will all get a taste of the new music by none other than Kanye West, as he releases his latest masterpiece, Yahdhi (September 29th).
The Chicago rapper took to Twitter to also announce that he has taken a shining to his longtime nickname, YE. "The being formerly known as Kanye West," he tweeted. "I am YE."
We assume that his recent return from the sunken place has sparked a change in the superstar producer who also goes by other aliases that include, Yeezy, Yeezus, and maybe now, Yandhi.
The project is expected to get people talking with its many featured artists that include Rihanna, 6ix9ine, Ty Dolla $ign, and the late XXXTentacion.
What do y'all think of new stage name? Will you be copping his latest music tonight?