NeNe Leakes Is Doing Strict Fast, And It Comes With A Tight Schedule
She revealed the news in an Instagram post.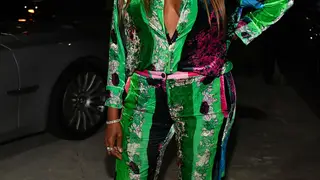 NeNe Leakes is very serious about a new fast. 
The Real Housewives of Atlanta alum shared that her current fast comes with some rules in an Instagram post on Sunday (Sept. 19). Leakes can't eat anything until after 6 PM. 
"Thanks to all of the chefs that are reaching out wanting to cook for me," she wrote. "Trust me I want to eat but I am currently on a fast and can't eat until after 6pm daily."
Taking to her Instagram Stories on Sept. 16, the former Real Housewives of Atlanta star opened up about how she is "having to adjust to my new life, my new normal" after Gregg's death after losing a battle on Wednesday (Sept. 1), according to The Daily Dish. 
The TV personality also shared that she has been welcoming visitors and also been trying to go out and about when she can. 
"I have good days and bad days but…yeah. They say it's normal," she said in the video. "Some days I'm up, some days I'm down. Today I felt like going to the salon so that was good. I normally don't go to the salon. I usually let people come to my house, so today I decided to drive to the salon and actually sit in the salon with other women. And that was good, to be around other people."