#Unboxed Vol. 9: Chapel Hart Is Mississippi Through and Through While Breaking Boundaries
The Poplarville trio and 'AGT' golden buzzer performers are catching the attention of Dolly Parton, the late Loretta Lynn and America at large.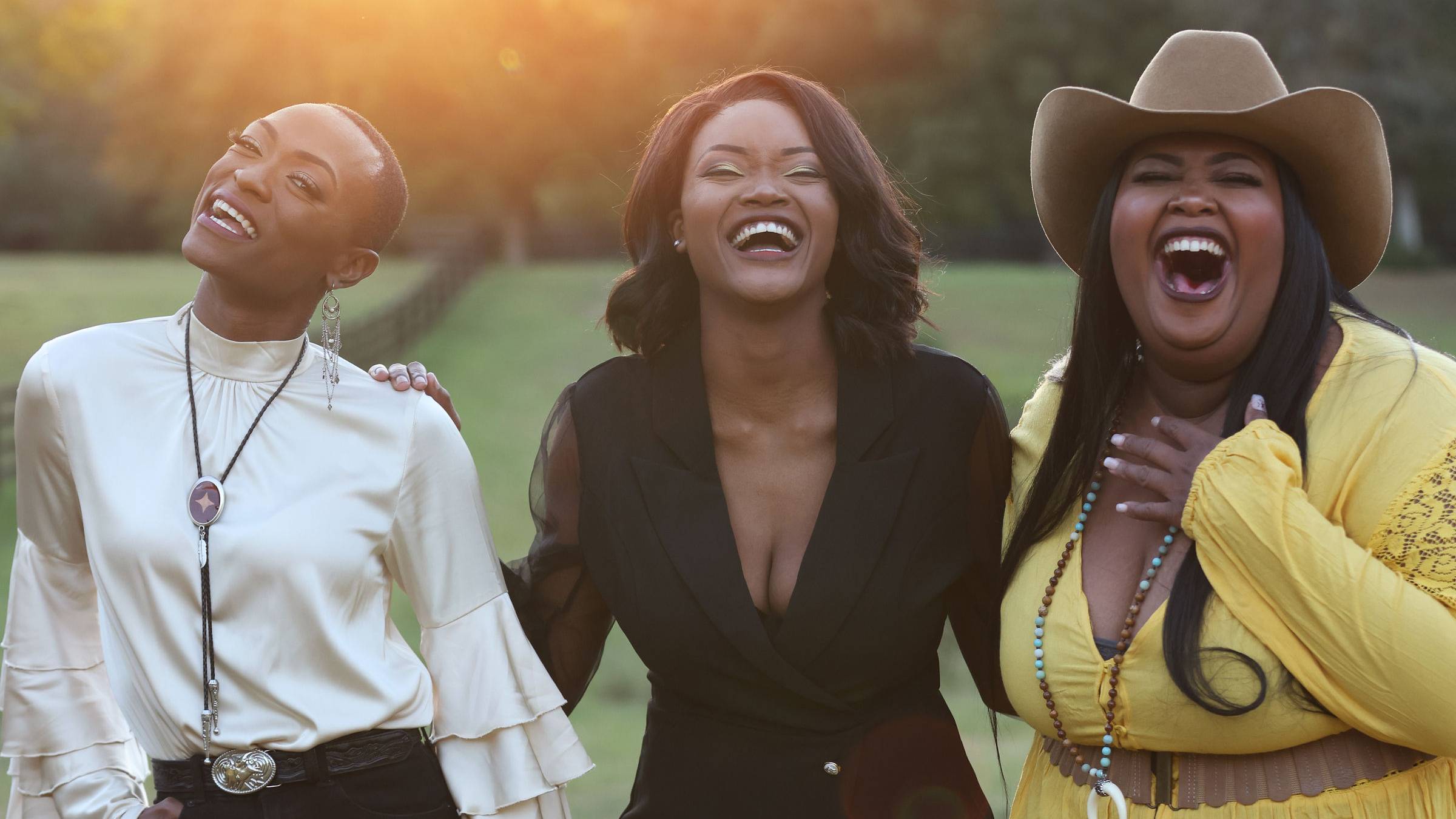 Already, Chapel Hart has almost a decade of country music experience together as a group, but it feels like they're just getting started.
The Poplarville, Mississippi trio, consisting of sisters Devynn Hart and Danica Hart and first cousin Trea Swindle, have made 2023 their year to hit the big time – and they're already well on their way. Already 2022 golden buzzer performers for America's Got Talent, becoming only the second musical group ever to accomplish such a feat, have already received stamps of approval from the late Loretta Lynn and even Dolly Parton, who enjoyed their groundbreaking AGT performance.
And while Chapel Hart may not be your traditional-looking country group at surface value, being a Black trio, their inspiration is as old-timey as it gets. On Friday (March 31), they released the single "Welcome To Fist City," which is inspired by Lynn's 1968 hit "First City" and was performed by them back in January at the Ryman Auditorium, a historic Nashville music hall where some of the greats of their genre have graced the stage.
In coordination with the single drop, Chapel Hart has also announced the release date of their upcoming album Glory Days, which is due out May 19. The effort will be their third full-length and first since AGT. But perhaps beyond the viral success and co-signs from some of their inspirations, perhaps the Mississippi native's most rewarding work has come with their ability to break barriers.
During a recent interview with BET, Chapel Hart describes how attending open mic nights and performing in rural areas has changed the preconceived notions of many while being an inspiration to those who look like them. They also discuss some of their greatest accomplishments to date, and what's next for them as the year continues.
BET: You're from Poplarville, Mississippi. How did growing up there kind of develop you as artist?
Danica Hart: I always tell people at the show we kind of grew up old school. Mississippi was kind of like The Last of the Mohicans to push up in the curve. Everybody else was like 30 years ahead, and we were just coming on up. But I feel like it relates to our shows kinda and our fanbase and our music. We kind of grew up on the older stuff and kind of that classic country. I feel like it's just showing.
Just being under our grandmothers really taught us how to talk to people and how to interact with people. And lord, my grandmother might have been the most popular person in Mississippi. Everything about growing up in Poplarville and growing up in Mississippi has prepared us for the journey that we're on right now. It's taught us that we don't all we don't all look the same, but we can all come together for the cause. We can all come together for the music.
Trea Swindle: I feel like it definitely translates to the music and to the people that we're cultivating, like this crazy congregation that's steadily growing. You see people who I feel like in any other circumstance probably wouldn't be hanging out together, but then next thing you know they're carpooling together to the next show and I think that's like the beauty of the whole Chapel Hart experience. It's like bringing back that old school community.
BET: You released the song "Glory Days" with Jim Beavers last month. How did that come together and the recording process behind that?
Devynn Hart: Anytime we write with him is an interesting session. We have so many nicknames for that man. We started the whole session just going through it with his names but like I was saying, anytime we write with Jim is such a vibe that you really can't describe. It's hard to find that with a lot of people because I think from the first time we met him, it was that instant connection. It was the first song that we wrote with him.
Danica Hart: I feel like when we first wrote with Jim we wrote a great song. Jim has roots planted deep in Nashville and so we were trying to find that kind of balance of how do we say exactly what Chapel Hart would say, but also, maybe find a way that we can say it blended with how it would be said in Nashville. So I feel like there was a little bit of trying to see what that is, and we kind of had a moment where he was like, "I just don't think that's how Nashville would say it." And it was kind of a moment [where] we were like, But that's how Chapel Hart would say it. And he goes, "Alright." So after the next song that we wrote – kind of once that wall came down – was "Glory Days." I feel like the beauty of it [came after] the wall came down and we all just kind of wrote together and we sat in and there was no, "Oh, I wonder if I can say this?" I feel like the beauty in it is how it captures both worlds.
BET: Also back in January you took to the Ryman Auditorium stage to perform your new song "Welcome to Fist City," which is a tribute to the late Loretta Lynn, who before she died, noted she was a fan of yours. How much did that mean to you and how did it go?
Trea Swindle: Listen, that performance, I can't even… usually I have words for days – first of all, it was our very first time performing at the Ryman, and it is everything that everybody says it is. It's like a spirit is in the building and it's so close and so intimate. We performed the song and not only did we debut the song at the Ryman, but the opry cloggers came out. And y'all don't know how much we love cloggers. We're bringing back cloggin'. They performed and Marty Stuart's on the side just rock it away and all these things and I'm trying not to scream but when the rest of the world hears this song, listen…
Danica Hart: And I think even more than that, I'm hoping that the world loves it as much as we do, or else we just oversold it [laughs]. I think the biggest honor for us was being able to play it for her granddaughter and her granddaughter was over the moon. Taylor was like, "Oh my gosh! Memaw would have been over the moon to know that in 2023 she would have died to know that there was the word "britches" was in a song." So [it feels amazing] when you can do songs like that and you can honor people in a way that feels not just like authentic to the song, to the moment, but also that pays tribute to who they were and how they would have said it.
BET: Dolly Parton is also a fan of yours. Have you had any in-person interactions with her and what has that been like?
Devynn Hart: We have not, but when she's ready, we're ready.
Trea Swindle: I'm not ready [laughs]. I told them they need to put three fainting couches in the rider just in case she shows up.
Danica Hart: I tell people like just thinking about me and Dolly – my knees start to get weak and I get clammy. I need to just think about it more before I actually meet her because I tell you I'm a lot of woman to pick up off the ground, so I've got to prepare myself. She's such an amazing storyteller and she was such a staple in country music and laying the way for women and country music. So like, if we never meet her, the fact that she knows: A, that we're alive is just good enough and B, give us a nod at our songwriting. For so long we felt like we didn't know if we were writing good songs or we would be in Nashville and people would be like, "Oh, this is good, but you should be writing with such-and-such," or "This is great, but you should let me pair you with this person and that person." So it always felt like, Okay, so we're writing this good stuff, but it's not good enough to be competitive. It's not good enough to stand alone. So having Dolly as a fan, I like that. It's a sense of validation.
Trea Swindle: It doesn't matter what the naysayers say if you have Dolly's stamp of approval.
BET: You're the second group ever on America's Got Talent to receive a "group golden buzzer" after performing your hit "You Can Have Him, Jolene." What did that mean to you – both from how it made you feel to also the opportunities it presented afterward?
Danica Hart: AGT was such a huge moment for us because I feel like it was such a turning point in our lives, and not just because of the Golden Buzzer, but everything leading up to that. We had a fan who kept saying, "You guys need to audition for America's Got Talent." And we just kept saying, like, No, that's not our thing. It's not our path. If people are honest in the music business, going on those shows – they swear it's career suicide, like you do not want to go on that. Everybody was telling us like, "No, y'all need to do it. It's not like everybody who's done it career tanks. So there was all of that going on.
BET: Being Black women from the south and in the country music scene, how have you navigated that and have any challenges presented themselves to you over the years?
Danica Hart: I think the hardest part was kind of breaking through that barrier. Even sometimes to this day, when people have a picture of what they think something is in their brain, and then you come in and you're not what they thought, the first thing that happens the wall goes up. So we've kind of taken a let the music speak for itself approach. For instance, we were in Nashville and we went to an open mic night, and when we went to go sign up – genuinely I don't think [a person confronting us about it] was being offensive. He was just like, "We just wanted to let y'all know…"
Trea Swindle: Even before we got to that point, when we walked into the room initially, it was like one of those old westerns – the music got a little lower, everybody turned and there was like an audible gasp…
Danica Hart: So we go to sign up for the open mic and the guy who's leading goes, "You know, we don't do R&B or Hip-Hop." We're like, Okay, no worries. We did "Jolene" a capella and something else. But there's a certain grace that you have to have because you have to understand that some people are just ignorant to what they don't know – that Black people sing country music and Black people exist in this space. So you have to kind of give them the grace to understand that. I feel like our job is to sing the music and then to let the music do what the music does. That's been the biggest part of our story about being Black women in country music is making music – it expresses who we are and it tells our story about growing up in Mississippi and falling in love and heartbreak and all those things, but also just writing that and being authentic to that and letting that speak for us instead of having to go in the room and go, Okay, well we're Black. I think that's probably what the first and most obvious thing is but the next thing is that we are Black but we exist in country music.
Trea Swindle: I think probably my favorite part of it all is watching those preconceived notions disappear and watching those people who – our fan base average age is about 68 and that speaks volumes because especially most older people – they don't have any filters. They're gonna tell you what they think exactly how they see it. But to have people that are that brutally honest seeing and hearing our music and appreciate it for what it is… We've had people come to shows, like, "I haven't been to a show in 30 years. I heard y'all and it made me want to come" or we'll go to shows and people are like, "Well, you know, I've never really even hung around many Black people, but I realized that y'all are exactly like us. It's like we're all it's all the same and it's just breaking down those barriers.
BET: And on the reverse, how do you feel your presence has inspired young Black girls and women to become country musicians where they may have previously thought that it couldn't be in the cards for them?
Trea Swindle: That is, I feel, one of the greatest honors, and no, it's a privilege that we get to be that beacon that another little girl can look up to because like whenever we were growing up there were no black women on CMT, no black woman on GAC. Of course, we had our favorite artists like the Gretchen Wilson's, the Dolly Parton's, the Johnny Cash's, and I can also see why we kind of migrated to those artists because they still weren't the standard. It wasn't status quo country, it was them being themselves. If it means being wild and rowdy or if it means showing those puppies or just singing about whatever you wanted. We met a lady named Mia in Nashville and she kind of said it: If I can see it, I can be it. We're just hard-headed. We didn't have that visual goal to look towards, and so we were just bullheaded. But imagine how much easier it'll be when a little girl sees Danica, sees Dev, sees me and it's like, "Okay, this is a thing." I think it will allow more Black girls to just be their authentic selves.