Faizon Love Responds To Ice Cube 'Friday' Controversy
He gave the West Coast rapper respect on Instagram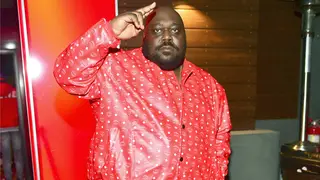 After Ice Cube addressed the long-standing rumor as to why Chris Tucker turned down the sequel to Next Friday and responded to comedian Faizon Love's statements on only making $2500 for his role as "Big Worm" via Twitter Wednesday (Dec. 29), Love has taken it upon himself to respond … in defense.
That same night, the 53-year-old comedian, who is also known for roles in the films Elf and Couples Retreat, posted an Instagram photo of himself and Cube, expressing his gratitude for the West Coast legend.
"First of all I not only consider Ice Cube a comrade but my brother and I'm still a fan I think he's One of the dopest n-ggas to ever touch a mic," he wrote in the caption. "I guess it's a slow news week so let me say what I got paid is a moot point, it was the price of admission to a game. I have zero regrets. Actually, I want to take this time to thank Cube Dj Pooh and Felix Gary Grey for letting me be apart of such an iconic picture. I truly have nothing but love For these brothers."
Love's controversial statements came from an interview with Comedy Hype earlier this month where he touched on a myriad of topics, including why he didn't star in the 2000 sequel.
He seems to be walking back his statements now. Check it out below: