Eddie Murphy, Lauren London And Jamie Foxx Among Actors In Netflix's Massive Movie Slate For 2022
The streaming giant just released a trailer for the 28 films it's slated to release this year.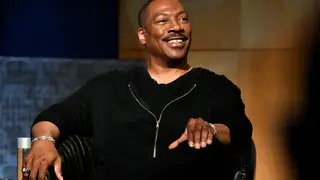 Netflix is revealing the massive slate of 28 films it's planning to release in 2022 with a new trailer that teases some of its biggest movies.
Among the titles the streaming giant is rolling out are You People, a comedy from Kenya Barris starring Eddie Murphy, Lauren London and Jonah Hill; Day Shift starring Jamie Foxx, Snoop Dogg and Dave Franco; Me Time starring Kevin Hart and Mark Walhberg; End of the Road starring Queen Latifah and Ludacris, and The Mothership starring Halle Berry and Omari Hardwick.
"There's a great big world of new stories waiting to be discovered," the trailer's caption reads. "This year the Netflix Film universe is expanding with brand new comedies, action-thrillers, mysteries, dramas, sequels and more…dropping every single week."
Watch the preview featuring the aforementioned stars and scenes from the Netflix movies to come in 2022 below.