Will Smith And Chris Rock Share Extremely Tense Moment On Oscar Stage
The slap heard around the world had Twitter asking, "What just happened???"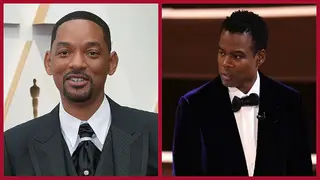 Oscar award-winning actor Will Smith seemingly lost his temper during Sunday (March 27) night's live airing of the 94th Annual Academy Award taking place at the Dolby Theatre, after veteran comedian and award presenter Chris Rock took aim at Smith's wife Jada Pinkett-Smith while presenting his monologue.
Smith walked on stage and appeared to hit Rock after the "Bee Movie '' star quipped, "Jada, I love you, 'G.I. Jane 2,' can't wait to see it." The King Richard star was spotted smiling at first while Pinkett-Smith looked visibly upset, rolling her eyes even. Rock's joke, referenced G.I. Jane starring actress Demi Moore, who famously appeared bald in the film. Pinkett Smith has been sporting a shaved head since opening up about her battle with hair loss and Alopecia in 2018.
However, things went all the way left after Smith walked on stage and slapped Rock before walking back to his seat. Censors quickly muted Rock and Smith's exchange. However, a hawk-eyed social media user made out that Smith appeared to shout, "Keep my wife's name out of your f–king mouth" several times at Rock.
The jarring moment left those at the event and critics on social media in shock. Check out some of the reactions below:
Later, Sean "Diddy" Combs, who appeared to introduce the 50th-anniversary celebration to "The Godfather,"  addressed the situation, telling both stars, "Will and Chris, we're going to solve this like family. Right now, we're moving on with love. Everybody make some noise." Variety reported that Smith's publicist Meredith O. Sullivan came by him during a commercial break for a discussion. Denzel Washington, who is also nominated for Best Actor for The Tragedy of Macbeth, also got up to speak to Smith privately.
Smith apologized for the incident during his acceptance speech after winning the award for Best Actor for his role in King Richard.
"Richard Williams was a fierce defender of his family," Smith began his acceptance speech. "Denzel said to me, 'At your highest moment, be careful, that's when the devil comes for you." It's like I want to be a vessel for love; I want to say thank you to Venus and Serena and thank you to the total Williams family for entrusting me with their story. I want to apologize to the academy; I want to apologize to all my fellow nominees."