Lori Harvey Posts Flawless Look As She Rocks Chanel
Her ensemble featured an all white set and jewels from the brand.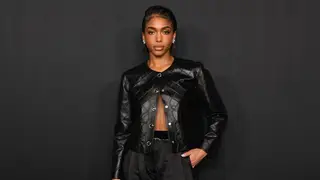 Lori Harvey is a Chanel kind of girl.
On October 3 (Tuesday), the SKN founder was spotted in France at Paris Fashion Week for the brand's Spring/Summer 2024 show. She also posted about her experience on social media.
"@chanelofficial show was incredible as always! Thank you for having me," she wrote in the caption of the post on Instagram.
While at the show, she rocked a white two-piece set by the luxury fashion house that consisted of a matching tweed jacket and skirt. She accentuated the monochromatic look with a turtleneck in the same color family. She finished the look with tall tan boots, pearl necklaces, and signature earrings from the brand.
Her post also featured a photo carousel of her modeling the lavish threads. In one snap, she leans against a door while posing on a balcony, and in another, she shows off a black quilted leather bag from the brand. Among the images, she is also seen lounging in a brown leather chair.
During New York Fashion Week last month, she attended the launch party for the newest collection of fragrances for the Parisian fashion house in Brooklyn. As the brand traveled back to the 1950s with its Lucky Chance Diner, she put her spin on the iconic throwback fashion era.
In true Harvey fashion, she posted candids of her night at the party.
She began the post sitting at a table with a sundae topped with whipped cream and a cherry on top in front of her. But the sweet dessert played second to Harvey, who was photographed draped in Chanel pearls around her neck.
Another image shows a close-up of her picking the dessert's cherry with her perfectly manicured nails while rocking a statement ring from the brand.