See This Artist's Epic Recreations of Iconic Imagery For Black History Month
Toya from Harlem takes on Malcolm X, Frederick Douglas, and Barack Obama.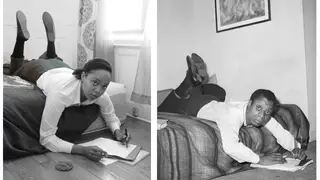 Toya Coleman, a 30-year-old blogger based in Brooklyn, recreated iconic historical images to celebrate Black History Month. She runs the blog Toya From Harlem, which she started two years ago as a creative outlet after participating in National Urban Fellows, a program that helps women and people of color obtain public administration Masters degrees. Starting the blog was never something Coleman was "ready" for, but after encouragement from a former coworker, she engaged in a journey to chronicle her life and experiences after returning to New York. And the rest, as they say, is history. Coleman spoke to BET about the inspiration behind this particular project, her artistic process and one photo reenactment in particular that felt rather natural. 
Tell me a little bit about yourself.
I was born and raised in Harlem and I went away for boarding school and I went away for college, so going back and forth, I've seen a lot of changes. All my early schooling was in Harlem, so because of that, I feel like that's inspired a lot of decisions I've made, particularly this blog, I wanted to help captivate the Harlem that I grew up in and a lot of the history I feel is being erased as a result of gentrification. 
What prompted this project?
My original recreation was last February, I did five women. During that time, I was job hunting and I also just broke up with my ex and I was like I want to do something for Black History Month, even though, you know, like every day is Black History Month but I just wanted to do something to pay homage to people I respected and I also know urging that time, in 2016, this was after a really tumultuous year of Sandra Bland and Tamir Rice and Mike Brown and I felt like there was a lot of images, very sad images, images of dead men and women. I wanted to show, you know this term people use "black joy," so I wanted to show from the past, the strong people and activists and models and all of that; it's not just activists that exist and have brought us here, and we will continue on that path. I really wanted to show that image and make it fun and put a modern twist on it. They're not verbatim copies. So that really was my inspiration, I wanted to do something like that. I really love Halloween and dressing up and so it was just a way for me to blend kind of my Black pride and my own personal passion for dressing up and theme parties and photography, all my pictures are taken by me. It was a challenge, it was something I wanted to contribute to what I was seeing as opposed to just what I was seeing.
So I read that you recreated women last year. When comparing the two experiences, would you say you felt different energies or emotions between the years, possibly as a result of the change in gender reenactment?
Yes, I would definitely say there has been a shift even with people recognizing I was doing it, because I did one in the summer, so I feel like it's become really personal. At first it was like, "OK, I want to do this, I want to show these images." Then I became very meticulous in the images I picked and why I was picking it and the emotional connection. Even putting on this garb and being like, "Oh my god, I look like Frederick Douglass, who was a slave who taught himself how to read and taught other slaves how to read and used the words of his oppressors and their clothing to talk about why slavery is wrong." I think this last [recreation] was very emotional for me with doing in particular these super powerful men, not that the women aren't super powerful, and the intention of it and the reception I'm getting from people who are just like wow this is really powerful. It moves me emotionally to a place I didn't really think...you know at first I was like, "Oh I'm just taking pictures." But I feel like I'm doing more than that and it feels fulfilling to know that people are enjoying them or they feel like they're powerful.
Walk us through the artistic process of transforming into other people.
It really forms organically in the beginning. I'm on Instagram all the time I follow these different media outlets that will post pictures of Black activists or Black models. I'll write them down and then when I'm ready to recreate, I'll look at the list  of people in the pictures that I like and I cross check with the difficulty of it to see if I can do it, which most of the time I can. They're pretty simple. Then I go thrifting from there. I go through my closet, I go through my friends' closets, I [compare] which ones are most doable, which ones are most powerful. I try not to make them verbatim the exact picture because I want it to be interesting and captivating. So I want you to look at the original photo and then look at my photo and be like, "Oh! I see a little twist." So this year I did a pop of color in them.
It takes a lot of commitment. I have to put myself in weird situations. I had to go to the NYU Law Library, my friend came with me, that was the one my friend took for me, and we had a photoshoot in the stacks while people are studying for their exams. That was the Barack one. It's an interesting process but it also is kind of inspiring that I'm like, "This is not about me. I'm going to take this photo because it's going to be really dope and people are going to like it and its captivating history and highlighting history that maybe people don't even know." Like, maybe people don't know that Barack Obama was the first African-American editor of the Harvard Law Review. So I try to not only have pictures but a quote and a fact about them or maybe something about them that maybe people don't know to bring in the historical context. I have a historical background, I studied African-American Studies at Wesleyan University, so I try to incorporate that. 
Was there one recreation in particular that didn't feel so foreign? Like you were able to identify with the situation in a natural way?
I think the Barack Obama one felt surreal for me. Like I said [about] my background, I went to boarding school. I went to a predominantly white college. In my boarding school I was one or four Black girls in a school of 500 people. So when you see Barack Obama is first African-American editor of the Harvard Law Review, I mean, I don't know what the Harvard demographics were then, but it was just kind of like, "Oh, I've felt this way before." Not that I know what he feels like, but just being in the law library, being in the stacks, that felt very surreal to me. It felt like college. It reminded me of high school. Even being in that environment, it felt familiar to me as someone who just finished grad school and even being part of a program that's like, "We're going to help women and people of color get a Masters in public administration." It felt very similar to my current life right now. 
This interview has been edited and condensed.