Adele And Rich Paul Move Into $58 Million Mega Mansion In Beverly Hills
See the sweet photos Adele shared on Instagram.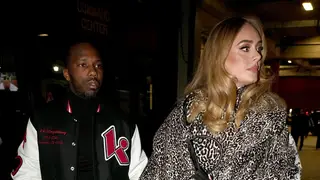 Adele and Rich Paul make their relationship official, and have moved in together!
The singer, who rarely speaks about her relationship, posted photos of her and her partner on Instagram. In the snap, the couple is holding the keys to their new house. The couple paid a whopping $58 million for the stunning mega-mansion, but the asking price was $110 million.
According to reports, their new home is in Beverly Hills. The house used to belong to actor Sylvester Stallone. It has 8 bedrooms, 12 bathrooms, and 3.5 acres of land.
The two-story mansion also has a beautiful wraparound balcony, a terrace, and an art studio.
As well as all of that, it has an infinity pool, a spa, a fully-equipped gym, a cinema, and an eight-car garage.
Talk about luxury! We wish the lovely couple the best of luck.