Natalia Bryant Debuts 'Soft Cinnamon' Hair Before The Winter — Here's Why The Color Is Trending!
Want to switch up your look for the upcoming season? Hair experts say this trend may be for you.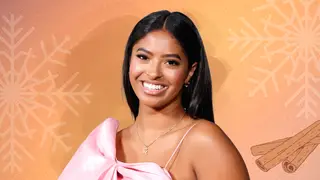 Natalia Bryant is stepping into the new season with a fab new hair color! The model recently took to TikTok to give fans a glimpse of her fun-filled hair transformation, which resulted in flowing reddish-brown waves that beautifully framed her face.
Keep scrolling to see the video that's received over 1 million views:
"Soft cinnamon," she captioned a car selfie on Instagram that showed her new hair color in all its glory.
We spoke to three hair experts to learn more about the "Soft Cinnamon" hair trend that has us ready to spice up our appearance this winter.
So, why is the "Soft Cinnamon" look currently trending? Salon owner Tonya Fairley says it's mostly because the color looks great on all skin tones.
"The color 'cinnamon' lives in the brown/orange color family and complements those with deep melanin tones very well," the master hairstylist explains about the color that brings out the highlights in our skin. "Most women of color have undertones in the 'warm' seasons, so cinnamon lights up our skin and brings vibrancy to our look. Soft cinnamon is trendy for the winter because it is considered a warm tone, allowing for subtlety. It is also a low-maintenance color."
Brooklyn, NY colorist Radangie Morales says the warm hair color has been on her radar since 2020. She says the demand for the look particularly spikes during this time of year. The stylist explains, "I changed a lot of clients to soft cinnamon during the Fall/Winter months. Despite being in the red family, it can literally be mixed to complement any WOC's underlying skin tones—it's so universal!"
Morales calls out how beautifully versatile the hue looks on celebrities like Keke Palmer and Zendaya. She highlights, "Both ladies are different shades and the color accentuates each beauty in its own special way. Soft Cinna for the win!"
"Whether you wear it short or long, soft cinnamon hair is a look that will turn heads everywhere, especially in the winter," shares professional barber Darrl Dee Robert, who has noticed an increased demand for the low-maintenance hair color for both men and women. "It's truly universal. It adds warmth and flare. The rich hues give any face and shape dimension, warmth, and an all-around great look."
Darrl, who works with celebrities like Keyshia Cole and SupaCent, adds that "mocha" hair is another color that beautifully compliments richer skin tones. "It's definitely a color that works well for Black women who want to make a subtle, but noticeable change to their appearance."
We are booking our next hair appointment as we speak. Thanks for the inspo, Natalia!
Editor's Note: This interview has been edited and condensed for clarity.