Exclusive: Tyrese Has a Message for Promiscuous Women
'The Fate of the Furious' star doubles down on his controversial stance.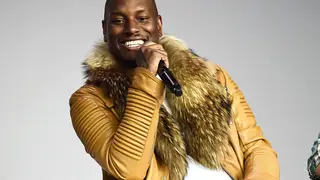 Tyrese is returning to the big screen in Fate of the Furious, which hits theaters on Friday. The actor and singer came to the BET offices to discuss the film (you can watch the full Facebook Live, here) and, of course, he sounded off on the nuances of relationships. 

For the women? The actor said, "I appreciate all the ladies out there that are still single, that are holding out. Don't settle. Don't settle."
He added, "Because I'm gonna tell you all right now, and this might be harsh. Sluts, skeezers, hoes, tramps and overly aggressive promiscuous women, they are never without a man because they don't have no standards. They ready to have sex with any and everything that want to have sex with them. But when you are single, and you actually love yourself, you know your value and your self worth you hold out until God sends you whats yours."
Ty continued, "So sometimes they be talking mess to women that are single but I have a respect for them because if you're single and you might say, "I've been single for a couple years," what ever the case may be, you actually holding out because you have your value. You have women that are active out in these streets, they going to lunches and dinners every night. Private planes, mega yachts, it's cracking. They're never without. However, it comes with a cost, you gonna put a lot of miles on yourself down there, come on."
See his full comments above and The Fate of Furious is in theaters Friday.
BET Networks doesn't endorse these specific comments.