Jack Harlow Lands A Starring Role In 'White Men Can't Jump' Reboot
He is set to take on the role of Billy Hoyle, previously played by Woody Harrelson in the original.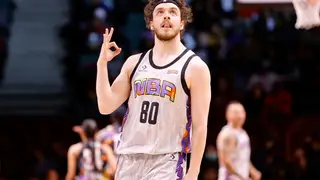 Looks like Jack Harlow jumped and scored a role as he is tapped in a leading role for the White Men Can't Jump reboot, taking on the role of Billy Hoyle who was played by Woody Harrelson in the 1992 original Deadline reports.
When it came to auditioning, this was the "What's Poppin" rapper's first-ever screen audition which impressed not only the film execs but Kenya Barris as well, who is tapped to write the script. The rising artist will star alongside Rosie Perez and Wesley Snipes, who are set to reprise their roles from the original.
The film's storyline remains the same, which will follow two street basketball hustlers who at first try to hustle each other, then team up for a bigger score.
Seems like the 23-year-old is on a momentum train as his new single "Nail Tech" debuted at No. 18 on the Billboard Hot 100 and even received some major props from Kanye West.
Are you excited to see Harlow in the reboot?