What's Known So Far About The Philadelphia Mass Shooting That Killed 5
The alleged shooter apparently fired randomly at his victims, but police are still searching for a motive.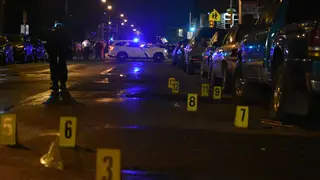 The suspect accused of killing five people in a Philadelphia shooting rampage is expected to face arraignment Wednesday (July 5), The Philadelphia Tribune reports.
Philadelphia District Attorney Larry Krasner said he plans to file multiple murder and aggravated assault charges against the accused mass shooter.
According to authorities, the suspect allegedly opened fire around 8:30 p.m. on Monday (July 3) on a street corner in the city's Kingsessing neighborhood. Armed with an AR-15 rifle, a 9 mm handgun and wearing body armor, the gunman appears to have randomly fired at cars and people in the area.
He fatally shot five male victims: Lashyd Merrit, 20; Dymir Stanton, 29; Ralph Moralis, 59; Daujan Brown, 15; and Joseph Warmath, Jr., 31.
The Police said the shooter also wounded two others, a 2-year-old boy and a 13-year-old boy, Philadelphia station WPVI reports. The 33-year-old mother of the wounded toddler and his twin brother were injured by flying glass when her car came under gunfire.
WPVI identified the shooter as Kimbrady Carriker, 40, who lives a few blocks from the shooting scene. Sources told the station that Carriker, who has previous misdemeanor drug and gun charges on his arrest record, owned the guns he allegedly used in the mass shooting and made disturbing social media posts before he went on the shooting spree.
The police said Carriker fired at least 50 shots and struck multiple vehicles. Officers found the gunshot victims at the scene when they arrived and heard more gunfire as they attended to the victims. They followed the sound of gunshots and encountered Carriker. Officers arrested him without incident after a chase.
Carriker was arraigned and charged on Wednesday (July 5) with five counts of murder and several other charges including multiple charges of aggravated assault and reckless endangerment, according to criminal court records.
"Where does a person like this get a semiautomatic handgun? Where does a person like this buy a Kevlar vest? This country needs to reexamine its conscience when it comes to Congress or the state legislature and try to figure out how we get these guns out of these people's hands," Philadelphia Mayor Jim Kenney Kenney told CBS Philadelphia, adding that the gun deal "should be sued out of business."
Krasner said Carriker was not immediately charged partly to give the police the time they needed to file the best possible affidavit, according to The Tribune. He also said there's a possibility that the case could be turned over to federal prosecutors for such such a "truly atrocious, horrific act."
Editor's Note: This story has been updated.