Manhunt Continues For Suspects In Baltimore Block Party Mass Shooting That Killed Two People, Injured 28 Others
Aaliyah Gonzales, 18, and Kylis Fagbemi, 20 were killed in the shooting.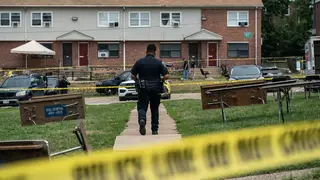 Law enforcement officials are currently in search of several suspects after a mass shooting that killed two people and injured 28 more at a block party in Baltimore.
According to CNN, rounds of gunfire caused chaos overnight in the south Baltimore neighborhood of Brooklyn where residents were celebrating Brooklyn Day. The shooting claimed the lives of Aaliyah Gonzales, 18, and Kylis Fagbemi, 20.
On Sunday (July 2), Baltimore Mayor Brandon Scott said that his office has deployed every resource at its disposal to help with the investigation.
"We will not stop until we find you – and we will find you," Scott said. "Until then, I hope with every single breath that you take that you think about the lives that you took and you think about the lives that you impacted here tonight.
"This was a reckless, cowardly act of violence that has taken two lives and altered many, many more," Scott added. "This tragic incident is another glaring, unfortunate example of the deep issues of violence in Baltimore, in Maryland, and this country and particularly gun violence and the access to illegal guns."
At a news conference on Sunday, Nick Mosby, president of the Baltimore City Council, condemned the shooting and the suspects who committed the crimes.
"This indiscriminate, callous, reckless behavior by a few causes a tremendous amount of trauma to hundreds and particularly our vulnerable adults in this community and our children. They deserve better," Mosby noted.
"These are events that are about celebration, about coming together, that are intergenerational and should be sacred to our communities," Mosby added.
Acting Baltimore Police Commissioner Richard Worley stated that the block party was "unpermitted," and the police were not aware that the event was taking place.
Yvonne Booker, a resident of Brooklyn Homes for more than 30 years, said that gun violence has had a devastating impact on the tight-knit community.
"It's kind of hard for me. I'm a mother," Booker said. "They need to stop. It's too much. I've been to so many funerals in this community."
The proliferation of guns has cast a dark shadow over many cities in Baltimore including the "Charm City." In June 2022, Scott announced they were filing a lawsuit against Polymer80, Inc., a manufacturer of Ghost Guns which are ordered online, assembled at home, and almost impossible to track down on the streets.
"Twenty-three percent of the ghost guns were found on people under the age of 21, with the youngest being 14," Baltimore Police Department Deputy Commissioner Michael Harrison said, noting the alarming age of some of the people obtaining ghost guns. "So yes, people are committing violent crimes at younger and younger ages."
In response to the shooting, Metro Crime Stoppers of Maryland has offered an $8,000 reward for anyone who provides information that leads to an arrest and charges of the suspects.