Who's The G.O.A.T.? Shady vs Bone Thugs | Round 1
In the tournament to decide the greatest rap crew of all time, this Round 1 battle is a Midwest matchup between Shady and Bone Thugs.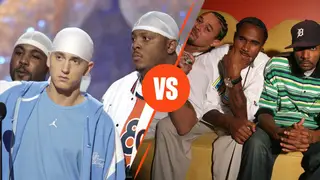 In recognition of hip hop's 50th anniversary, BET, in partnership with Ambrosia For Heads, is celebrating the culture by hosting a bracket-style competition that allows you to determine hip hop's greatest crew.
Rather than having "experts" tell you who is the greatest of all-time, this is your opportunity to collectively make that decision. After giving the opportunity to any and all fans to provide feedback on which crews should be included, 32 collectives from different regions, styles, and generations have been selected—all vying for that #1 spot. When the final battle is over and the last vote is cast, you will have determined who is your Greatest Rap Crew of All Time.
A decade after the formation of N.W.A., two of its members lit the pathway for two superstar crews in the Midwest. After Eazy-E used his Ruthless Records label to present Bone Thugs-n-Harmony and Dr. Dre made Eminem his latest protege, hip hop history was changed. 
Eminem and his affiliates and B.O.N.E. Enterpri$e (as they were once known) made moves less than 200 miles apart—in Detroit and Cleveland, respectively. Both entities took the attention they got from making quality music and helped put others on, leading to plaques, awards, and fast-flowing rap styles. Despite their decorated accomplishments, in this Round 1 matchup, only one Midwesterner can remain.
Shady Records
Eminem stepped in to become one of hip hop's new leaders at the close of the 20th century. Incredible flows, rewind-worthy punchlines, and outlandish videos set the former battle rapper up for success with his major label debut. "The Slim Shady LP" emphasized bringing like-minded talent into the industry with Em, including his Bad Meets Evil brother Royce 5'9". By the top of Y2K, Eminem used his platform to spotlight D12—a band of Detroit rap misfits (including Em) who shared his bumpy road to stardom and commitment to lyricism. 
Shortly after this time, Marshall Mathers sought out another Royce-staked project in Slaughterhouse, as well as Alabama's Yelawolf, and others. Shady embraces supergroups and provides fans with surprise releases and requested rap combinations. Throughout the Shady crew, artists seemed to embrace the struggle, inner darkness, and undying will to win. In doing so, this crew put technically-advanced lyricism back in the spotlight. More than label signings, Shady routinely used show-stopping BET Awards cyphers, collaborations, and compilations to show that regardless of region or style, these artists shared a common cause and a belief that underdogs can eventually reach the top.
Bone Thugs-N-Harmony
That quadruple-platinum album closed with a song that introduced Bone protégés Poetic Hustla'z and Graveyard Shift—both entities of the fledgling Mo' Thugs unit. Even before Bone received a Grammy for its mournful hit "Tha Crossroads," Mo' Thugs reached #2 on the charts for 1996's "Family Scriptures" compilation. The platinum LP introduced female rap duo II Tru and showcased a host of Cleveland talent. Despite lacking the radio exposure of some of their coastal peers, Bone Thugs thrived in the '90s—beyond the five members. A second Mo' Thugs compilation, "Chapter 2: Family Reunion," earned a gold plaque. That collection's country-themed single "Ghetto Cowboy" featured Krayzie and Layzie alongside Powder, Thug Queen, and Felecia. 
Bone were pioneers in steadily supplying the fans with unique products, including sought-out features with Mariah Carey and The Notorious B.I.G. This crew has endured on its own terms, with over a half-dozen platinum full-lengths under its umbrella, including Krayzie's solo debut. Often the mouthpiece of this crew, Krayzie won a second Grammy trophy for his hit Chamillionaire "Ridin'" collaboration. Having faced personnel shifts, personal losses, and more, Bone Thugs have maintained a toughness worthy of their name.
In this celebration of hip hop and all of its talented crews, your vote decides the winner.
---
EDITOR's NOTE: Register for the sweepstakes for a chance to win the grand prize of two (2) tickets to the 2023 BET Awards, two (2) round-trip airline tickets, and a 2-night hotel stay on June 25. Up your chances to win by voting weekly.
NO PURCHASE NECESSARY TO ENTER OR WIN. VOID OUTSIDE OF THE 50 US & DC AND WHERE PROHIBITED BY LAW. Open to legal residents of the 50 US & DC who are 18 years of age or older at the time of entry. Ends at 12:00 p.m. ET on May 1, 2023. Official Rules: bet.com/grcoat-official-rules. Sponsor: Black Entertainment Television.