'The Game' Star Hosea Chanchez Shares Heartbreaking Story Of Being Molested By His Friend's Father
"I'm choosing to expose him now."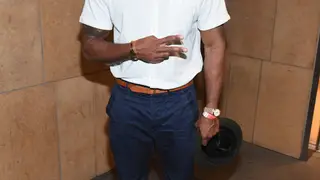 Hosea Chanchez, former star of The Game, has bravely come forward about being molested by a close friend's father when he was just 14. He also names his abuser in the detailed post.
The actor, who grew up in Atlanta, shared the disheartening story on Instagram, along with a photo of him as a teenager. 
*Warning: Graphic content involving details of molestation to follow*
Chanchez, who most recently appeared in episodes of All American and Black Lightning, claimed that the father of one of his friends would insist on driving him home. While they were alone in the car, the actor said the adult would often make inappropriate comments about his genitalia.
"It was summer and I was about 14. I'd gotten a ride home from my friend's father, who this day seemed insistent upon dropping me off himself," he wrote. "It seemed odd until I later realized he had been preparing me for this long ride home for a while. A week before this day, my friend's dad was asking me what type of girls I liked and if I had sex with a girl yet. He kept saying, 'I bet you have the girls screaming with that big d**k, I bet you can c*m a lot.'"
Chanchez added that his alleged abuser only did this when they were alone and pointed out that he has now realized that this is behavior predators usually exhibit when "grooming" a young victim.
He then went into detail on the moment he sexually assaulted him further on a dirt road.
"Shortly after the drive began, he detoured and pulled down a dirt road, pulled over and said he wanted to talk to me about school and what my plans for my future are," he continued. "He worked at a university so he said he's only looking out for me and my future. Then out of nowhere, he said he wanted to see what the girls are going crazy over, then he reached over, unzipped my pants and told me to trust him."
The actor said he remembered his alleged abuser telling him, "Trust me, you will like it," before molesting him in the car.
"When he finished, he said, 'It don't mean nothing if a guy gives you a blow job, it's not intercourse, so it's not sex,'" he recalled. "Then, he told me he's a very powerful man and if I'd ever told anyone he would ruin my life and no one would believe me anyways. I was 14, a young boy, a child."
Chanchez, who went on to identify his accuser as Issac Sanders from Montgomery, Alabama, said he has chosen to come forward now because he can't let this alleged predator leave this earth without being held accountable for his actions.
"I'm choosing to come forward with it now in hopes that my TRUTH helps to free someone else from guilt and shame at the hands of a predator, rapist, pedophile," he wrote. "I hope it helps to stop someone else from being molested, raped, assaulted and taken advantage of as a kid. I often wonder if he's done/doing this to other kids, I'm sure I'm not the only one... So in an effort to heal the damage that's been done, I'm choosing to expose him now."
The actor ended the post with these words: "I pray to GOD this TRUTH helps someone, I pray to GOD it helps me. The END. The BEGINNING."
See Chanchez bravely open up about his assault, below:
We applaud Hosea Chanchez for sharing his truth.
If you or someone you know has been sexually assaulted, you can seek help by calling the National Sexual Assault Hotline at 800-656-HOPE (4673).