Cheryl James of Salt-N-Pepa Says She Was 'Asked to Have an Abortion' for the Sake of Her Career
The legendary rap group sat down for an intimate interview with Tamron Hall where they talked about how the industry has evolved for women.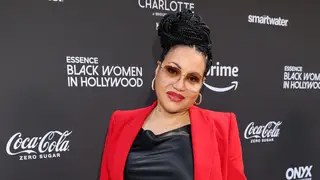 In 2021, Salt-N-Pepa was awarded a Lifetime Achievement Award from the Grammy Awards. The achievement was a culminating moment for a group that kicked open so many doors for today's current wave of female rap stars.
In a new interview with Tamron Hall, Cheryl James and Sandy Denton are sharing more highs and lows of their four-decade-long career.
The interview is part of Hall's special "Road Trip with Tamron to Los Angeles" edition. She sat down with the rap icons and at one point asked them about how women are often told that they can't balance motherhood with having a successful career.
"They still sayin' that?" quipped Pepa (nee Sandy Denton). "And that was why we are true to who we are. They could recognize 'cause we wanted to be moms and we was moms. We said, 'We can do it' and whatever came my way, I handled it, which was taking the good with the bad … 'cause someone has to do it! When they think it can't, they panic, the labels and people. 'Oh my god, how are you gonna? The sales! Sales, sales!' But you know, we did it."
Cheryl James aka Salt chimed in, saying, "They do get scared. I don't think I've ever said this out loud, oooh Tamron! I was actually asked to have an abortion — I won't say by who — but to your point, yeah, you just have to know that it's something that you're capable of handling if you want a kid and you want to have a career. And it's definitely harder."
She added, "Having my daughter, besides finding Jesus, is the best thing that I've ever experienced, my kids," she continues. "Like, I needed that lil' baby in my life, you know? She kept me company on the road."
In 2022, the group and their DJ Spinderella reunited to celebrate their star on the Hollywood Walk of Fame.
They told Hall that they are still writing the stories of their personal and professional futures.
"I am just embracing who I am and where I am in life," said Salt, 57, "because I've worked so hard." She added that one level of growth is that she no longer seeks outside validation but instead focuses on her own personal peace.
The ladies are also cooking up the next iteration of their careers. They are still touring. They told Tamron that they are working on a documentary and that they are even considering a cooking show and line of cookware.
They are also looking to develop a line of spices--including, of course, salt and pepper.