BET Awards 2022: Faith Evans, Lil' Kim, And More Perform In All Black Ensembles To Showcase Unity And Honor Diddy!
Diddy received the Lifetime Achievement Award at the BET Awards 2022 on Sunday night.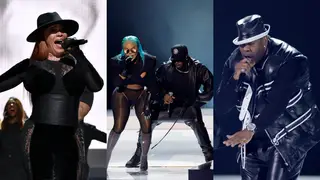 Sean "Diddy" Combs received his flowers at the BET Awards 2022 on June 26! The receiver of the Lifetime Achievement Award told red carpet host Terrance J  that it was "truly a blessing" to receive the honor during Culture's Biggest Night. 
Before his iconic tribute performance, Combs styled on the red carpet with his family, including his beautiful mom Janice Combs. 
Later in the night, the music mogul brought his signature Bad Boy energy to the BET Award stage with a lively performance featuring a list of artists including Jodeci, Mary J. Blige, Shyne, Lil' Kim, Jadakiss and Sheek, Busta Rhymes, and Faith Evans! 
Keep scrolling to see how the artists showcased unity and honored the music mogul in all-black ensembles! 
What a performance! Join us in sending a big congratulations to Diddy on his prestigious Lifetime Achievement Award!