New Year, New Look!: H.E.R. Debuts A Fun And Flirty New Hairstyle On Instagram
The star recently revealed why she's decided to remove her signature sunglasses.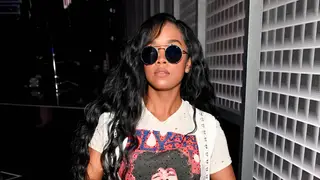 H.E.R. is stepping into 2023 with a new hairstyle! The multi-talented singer and actress recently took to Instagram to reflect on the past and set intentions for the new year, and we cannot get over her flirty new look that's adding just the right amount of sizzle to our Instagram timelines.
In the photo, the star rocked a long layered haircut with a sexy side swept bang that playfully framed her face.
"No expectations. Taking it day by day. Imperfections and all," she captioned the social media post, which has over 484K likes. "This year tested me…Thanks for sticking with me."
Quickly the singer's IG followers began to fill the comment section of her post with heartfelt messages and words of praise.
"You're the best. I love watching you grow as a person and artist," one fan commented. "Cup of noodles is my kind of carrying on. Reason number 45687896 to love you," another follower added.
One person simply stated: "#Perfect."
ICYMI: In December 2022, the singer—who was born Gabriella Wilson—shared on Good Morning America why she decided to remove her signature sunglasses.
"I've been re-finding my voice. Now I'm not wearing glasses. I can't be acting and wearing glasses, so I think it's time for people to really get to know the person behind H.E.R." she explained. "H.E.R. is me, but at the same time it's a new chapter of my life, and I think I'm really finding that connection and I'm allowing people to see under the layers a little bit."
We love the transparency! Looking good, sis!