Jordin Sparks Reveals The $5 Hair Gel That Kept Her Edges Slayed To Perfection During Her 'DWTS' Stint!
The singer chatted with BET Lifestyle about the gel that's made with pure shea butter!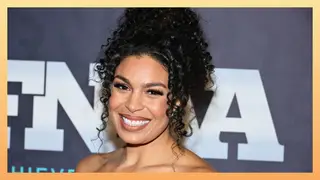 Jordin Sparks wowed us as a fabulous contestant on Dancing With The Stars! The singer and actress' appearance on the celebrity dance competition show was enough to get us on our feet.
Despite not winning the show, many watchers of season 31 agreed that Sparks showed up and showed up with eye-catching dance moves and a sparkling personality. Fans voiced they were also impressed by her superstar ensembles and beautiful glam!
We recently spoke with Sparks and were blown away when she revealed her secret to keeping her edges all the way together while performing on the dance floor. It's Cantu Beauty's Extra Hold Edge Stay Gel ($5)!
"I love it so much," Sparks shared with BET Lifestyle during a recent interview. "When I was on Dancing With The Stars, my hair was constantly in a bun or slicked back. That's when I started using Cantu Beauty's extra-hold gel. I could really tell it was keeping my edges healthy."
Made with pure shea butter, the gel is said to smooth and condition frizz and flyaways without harsh ingredients like sulfates, parabens, silicones, phthalates, gluten, paraffin, and propylene. It is also long-lasting and flake-free, making it ideal for sleek hairstyles.
ICYMI: Jordin Sparks was recently named Cantu Beauty's newest brand ambassador! In partnership with the hair care brand, the star will assist in the brand's community initiatives to uplift young women all over the world, including the global non-profit organization, Women Empowering Nations.
"Not only does Cantu Beauty have amazing products, but I also love the fact that their vision is bigger than just their products," she expresses. "They also want to embrace women as a whole. I really love that! Anytime I can be a part of something that uplifts women and gives them a platform, I want to be a part."
FYI: Keep an eye out for our upcoming interview with Sparks. In our conversation, we talked about a wide range of hair topics, including how she keeps her curls happy and healthy. Stay tuned…
If you enjoyed this story, check out this trendy Lifestyle gallery: 
Editor's Note: This story has been edited and condensed for clarity.