Five Ways Pokémon Go Is Ruining Your Life
Yes, Pikachu is cute, but not worth losing everything over.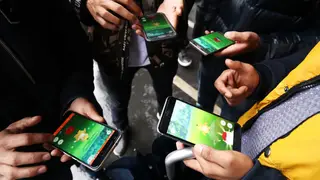 The Pokémon Go game dropped in June and started a literal frenzy. 
This augmented-reality video game requires you to make the most of your walking time by finding and catching Pokémon characters that are "living" in our real world with your smart phone. 
And it's fun. Truly; or else people just wouldn't do it. But listen: Some of you are doing the absolute most with this here Pikachu. It's starting to take over and ruin your life and it's time to put down the phone and think about the damage you've been doing.
1.) You almost died — like for real!
It seems like every week, there are news stories of people getting so wrapped up in Pokémon Go that they are not paying attention to where they are going. They are falling off cliffs, getting into car accidents, breaking bones, being sent to the ER and even dying. Yo, no game is this deep. 
Pokémon Go is slowly becoming the demise of relationships — and Tinder.
Think about it: You're spending so much time chasing imaginary creatures that you're neglecting your girl, missing dates, MIA for hours and too tired to do the deed when you do decide to come home. Sweetie, even if you have a Drake beard, no one is going to put up with that. Trust.
In the past month, there have been plenty of reports of Pokémon users getting robbed. SMH! When you're out in the streets at all hours of the night, being lured into all kinds of places with your phone out and your awareness non-existent. Talk about being a perfect target.
4.) You lost your damn job.
Instead of focusing on what you get paid to do, you were wandering around the office looking insane — and sadly your supervisor noticed. Not sure how you're going to explain to your landlord, partner and the student loans lady that you got handed a pink slip over a video game, but we wish you all the luck in the world and hope unemployment covers that.

5.) You're turned into a Pokémon zombie.
Remember when you used to read books, play with your kids, do yoga and meet your friends for happy hour? That awesome person is long gone and instead has been replaced with a zombie-like beast obsessed with catching every last Pokémon by any means necessary. You haven't eaten, bathed or brushed your teeth.
This all comes from a place of love, when we tell you to get your life, STAT!