Here Are All The A-Listers Performing At Aretha Franklin's Funeral
The funeral service is scheduled for August 31.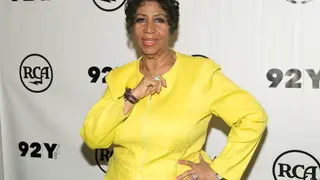 Music lost one of it's most prominent and acclaimed voices as the Queen of Soul Aretha Franklin passed away on Thursday (August 15) at the age of 76.
Details surrounding the star-studded events held in honor of the singer's life have been officially confirmed.
According to the Detroit Free Press, the schedule begins with a public viewing at Detroit's Charles H. Wright Museum of African-American History from 9 a.m. - 9 p.m. Tuesday, August 28 and Wednesday August 29.
On Thursday August 30, there will be a viewing held at New Bethel Baptist Church, the place where Franklin began singing as a child. This viewing is scheduled for 12 p.m. - 4 p.m.
On Friday, August 31, Aretha Franklin's official funeral service will commence at 10 a.m. at the Greater Grace Temple in Detroit.
Almost 20 of Franklin's beloved friends and collaborators are slated to perform in her honor at the funeral service. Stevie Wonder, Chaka Khan, Jennifer Holliday, Jennifer Hudson, Fantasia, Yolanda Adams, Shirley Caesar, The Clark Sisters and Marvin Sapp are among the entertainers slated to pay homage through the gift of song.
After the funeral services conclude, the Queen of Soul will be buried at Detroit's Woodlawn Cemetery. Franklin's father Reverend C.L. Franklin; her brother Cecil Franklin; her sisters, Carolyn Franklin and Erma Franklin; and her nephew Thomas Garrett are all buried at Woodlawn.
There will also be an Aretha Franklin tribute concert at Detroit's Chene Park Amphitheatre on Thursday, August 30. Gladys Knight, The Four Tops and Johnny Gill are among the guests slated to perform. Ticketmaster is reportedly waiving service fees "in honor of the Queen," according to the Detroit Press.