Judge Expunges Juvenile Record Of Claudette Colvin Who Refused To Give Up Her Seat Months Before Rosa Parks
She became a civil rights pioneer when she was arrested at age 15 for violating Alabama's bus segregation law.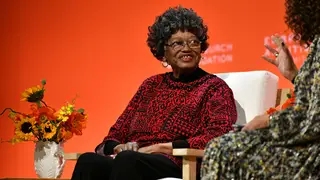 A judge in Alabama expunged Claudette Colvin's juvenile record involving her refusal in 1955 to give her seat to a White person on a Montgomery bus that violated the city's segregation laws, months before a similar incident involving Rosa Parks touched off the Civil Rights Movement, CNN reported.
Colvin, 82, was a 15-year-old girl when a bus driver called the police because she refused to move to the rear of the bus, according to The Associated Press. The police said Colvin kicked and scratched an officer who ordered her to give up her seat. In addition to charges for violating the segregation law, Colvin was charged with disorderly conduct and assaulting an officer. She appealed and was ultimately sentenced to probation only on the assault charge.
On October 26, Colvin petitioned the court to clear her name. Montgomery County Juvenile Judge Calvin Williams on Nov. 24 signed the order to destroy all records of the case. In doing so, Williams referred to Colvin's defiance as an act that "has since been recognized as a courageous act on her behalf and on behalf of a community of affected people."
In December 1955, nine months after Colvin's arrest, Rosa Parks famously refused to give up her seat on a Montgomery bus to a white man. Parks, a 42-year-old seamstress and NAACP activist, gained notoriety for the role she played in sparking the civil movement.
According to The New York Times, Colvin moved to New York City after her conviction. She later returned home during the yearlong Montgomery bus boycott.
She told the Times that, back then, Black leaders thought Parks should be the face of the movement because her complexion was lighter than Colvin's, a decision that they believed would elicit White sympathy.
"My mother told me to be quiet about what I did, She told me: 'Let Rosa be the one. White people aren't going to bother Rosa — her skin is lighter than yours and they like her,'" Colvin said in a 2009 interview.
Colvin's motion to expunge her record stated, "I want us to move forward and be better. When I think about why I'm seeking to have my name cleared by the state, it is because I believe if that happened it would show the generation growing up now that progress is possible and things do get better. It will inspire them to make the world better."