Hip Hop Awards 2023: Top 7 Music Video Performances by Busta Rhymes
The rapper has been nominated for "Best Live Performer" at the upcoming "BET Hip Hop Awards" 2023.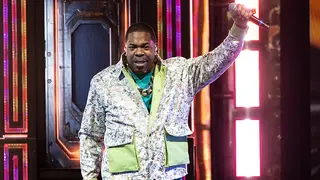 Busta Rhymes has enjoyed a storied musical career marked by innovation and a dynamic stage presence. With a career spanning over three decades, he has consistently pushed the boundaries of the rap genre, thanks to his lightning-fast rhymes and captivating charisma.
His contribution to hip-hop is immeasurable, with a catalog of hits that have defined eras and resonated with fans worldwide. In recognition of his exceptional live performances, the New York emcee has been nominated for the "Best Live Performer" award at the upcoming "BET Hip Hop Awards" 2023.
"Woo-Hah!! Got You All in Check"

Busta's debut single introduced the world to his rapid-fire delivery and unique persona.

"Put Your Hands Where My Eyes Could See

The music video for the rapper's 1997 single "Put Your Hands Where My Eyes Could See" featured extravagant costumes and dance moves and remains one of the most iconic visuals in hip hop.

"Look at Me Now" with Chris Brown and Lil Wayne

The track became a viral sensation, showcasing Busta's enduring appeal.

"Touch It"

Busta Rhymes reinvented himself with this hit, embracing a more electronic sound.

"Break Ya Neck"

This record became an instant hip-hop anthem following its release in 2001.

"What's It Gonna Be?!"

This collaboration with Janet Jackson blended hip-hop and R&B seamlessly.

"Gimme Some More"

Busta's use of the "Psycho" sample and frenetic flow made this a standout track.

Watch the Hip Hop Awards 2023 on Tuesday, October 10, 2023, at 9 PM ET/PT on BET.