Soul Train Awards 2023: Unveiling the Talented Nominees for 'Best Group'
Get ready to groove with the hottest musical talents of the year.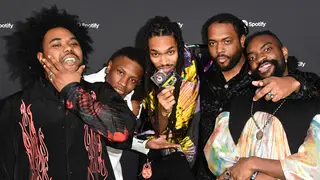 The "Soul Train Awards" 2023 are just around the corner. It's expected to be an epic celebration of the best in R&B and soul music with dynamic performances and guest appearances you won't want to miss. The lineup of nominees is also nothing short of extraordinary. This year's "Best Group" category includes DVSN, FLO, Jagged Edge, Kool & The Gang, Maverick City Music, Phony PPL, and Ronald Isley & The Isley Brothers, representing both seasoned veterans and innovative newcomers. As we count down to this spectacular event, airing Sunday, November 26, get familiar with this year's nominees.
DVSN

The dynamic Canadian R&B duo has consistently delivered deep cuts and soulful hits.  With their smooth vocals and production, they have earned their spot in the contemporary scene.

FLO

FLO's ability to blend traditional R&B elements with modern flair has rightfully earned them a place among the "Best Group" nominees.

Jagged Edge

For decades, industry veterans Jagged Edge have given fans classic ballads and R&B records that can get any party started.

Kool & The Gang

Kool & The Gang's influence in shaping the landscape of funk, soul, and R&B is unparalleled.

Maverick City Music

Maverick City Music's nomination for Best Group highlights their impact on the intersection of gospel and soul music.

Phony PPL

Brooklyn-based group Phony PPl should be on everyone's radar. Their genre-defying style and eclectic sound have delightfully pushed the boundaries of traditional R&B.

Ronald Isley & The Isley Brothers

With their iconic hits and soulful performances, Ronald Isley and The Isley Brothers continue to inspire generations of musicians.

"Soul Train Awards" 2023 premieres Sunday, November 26, at 8 p.m. ET/PT on BET and BET Her.