Remembering William Gray: Obama, Ben Jealous Pay Homage
William Gray, the former Congressman from Philadelphia and head of the United Negro College Fund, receives tributes following his death in London.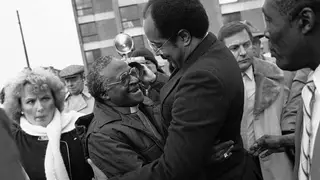 William H. Gray III with Desmond Tutu. (Photo: AP Photo/Peter Morgan, File)
From the president of the United States to civil rights leaders and educators, several Americans paid homage to former Congressman William H. Gray III, the first African-American majority whip in Congress and former president of the United Negro College Fund, who died Monday in London at the age of 71.
"Bill Gray was a trailblazer, proudly representing his beloved Philadelphia in Congress for over a decade as the first African-American to chair the Budget Committee and to serve as the Majority Whip," President Obama said, in a statement.
"Bill's extraordinary leadership, on issues from housing to transportation to supporting efforts that ended Apartheid in South Africa, made our communities, our country and our world a more just place."
John S. Wilson, the president of Morehouse College, spoke not only of Gray's service in Congress but the role he played while leading the UNCF in securing $1 billion from Bill Gates for African-American colleges.
"Beyond appreciating him for being an extraordinary pastor, politician and educator, I will always appreciate Rev. Gray because he fundamentally improved the value proposition of Black educational enterprise when he attracted the $1 billion gift to the UNCF," Wilson said, in an interview with BET.com. "That was extraordinary."
Gray died while he was in London with one of his sons to attend the Wimbledon tennis championships. A renowned minister who succeeded his father as pastor of Bright Hope Baptist Church in Philadelphia, he was elected to Congress in 1972, representing Philadelphia.
"At Bill's invitation, I was honored to serve as a guest speaker at Bright Hope Baptist Church in Philadelphia, where Bill served as pastor until his retirement in 2007," said Rep. Maxine Waters (D-California), in a statement.  "I feel fortunate to have had the distinct honor of working with him over the years, as both a colleague and a friend."  
He served as chairman of the powerful budget committee and became the first African-American in the 20th century to become majority whip of the House of Representatives. While in that position, he wrote legislation implementing economic sanctions against South Africa.
He stunned many of his colleagues and constituents by resigning from Congress in 1991 to run the UNCF. In that position, he raised more than $2.3 billion for Black colleges. He was later selected by President Bill Clinton as a temporary special adviser on Haiti.
"Congressman Gray was one of the legendary figures not just for historically Black colleges and universities, but for all education," Michael Sorrell, president of Paul Quinn College, told BET.com. "He was a college advocate for those students and their families with candor, eloquence and passion."
Benjamin Jealous, the president of the NAACP, remembers Gray as a man who opened doors for the next generation of Blacks in politics.
"Bill Gray blazed a heroic path for national Black political leadership a generation before Obama broke through as president," said Benjamin Jealous, the president of the NAACP, speaking with BET.com. "He went on to strengthen the UNCF at a critical moment for historically Black colleges and universities. His visionary presence will be sorely missed."

"His tireless preparation, strategic mind and encyclopedic breadth of knowledge make him singular in legislative history," Mitchell said, speaking with BET.com. "He broke the legislative glass ceiling for Blacks and inspired us to think differently about our possibility at a senior staff level. He was the reason I became the youngest chief of staff on the Hill at the time."

BET National News - Keep up to date with breaking news stories from around the nation, including headlines from the hip hop and entertainment world. Click here to subscribe to our newsletter.