Stephen 'tWitch' Boss Autopsy Shows No Sign of Drug Use
The beloved choreographer died by suicide in December 2022.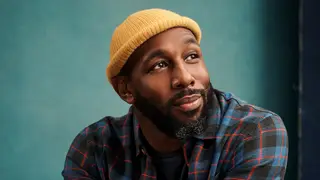 New details about  Stephen "tWitch" Boss' shocking death have been revealed.
According to a new autopsy report obtained by Entertainment Tonight, the beloved choreographer and The Ellen DeGeneres Show DJ did not have drugs or alcohol in his system when he tragically took his own life on December 13.
As previously reported, the 40-year-old was found dead inside of a motel room last year after West Valley Division authorities responded to an "Ambulance Death Investigation" radio call at a lodge. Investigators later determined that the media personality died from a self-inflicted gunshot wound, noting that there were no signs of foul play before handing their case over to the Los Angeles County Coroner's office.
Earlier this month, Boss' wife, Allison Holker Boss, told People, "No one had any inkling that he was low. He didn't want people to know. He just wanted to be everyone's Superman and protector."
The entertainer is survived by his wife and their three children Weslie, 14, Maddox, 7, and Zaia, 3.