Brandy's Daughter Sy'rai Debuts New Single That Samples An Aaliyah Classic
The track was produced by the Grammy-winning singer's nephew.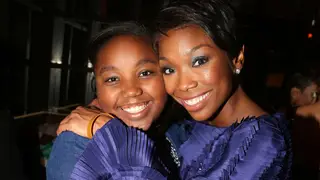 Sy'rai Smith, Brandy Norwood's daughter, is getting into the family business.
The 17-year-old has released a new single on Saturday (April 18). The track, produced by Brandy's nephew Aaron Smith, is called "At Your Best" and is a tribute to Aaliyah's 1994 single "At Your Best (You Are Love)."
Brandy showed support for her little girl's talent via Instagram. She posted a snippet of Sy'rai's latest and the caption, "Please check out my baby girl @syraismith 's new song #atyourbest produced by my nephew @avgaaron link in my bio. God Bless you all on this great Friday. Angelic voice. Mama loves you."
This isn't the first occasion Sy'rai's displayed her singing talents to the world. The 17-year-old's been featured in numerous videos that have circulated the Internet showcasing that the apple didn't fall far from the tree
Listen to Sy'rai Smith's latest single below.