The Upshaws: Actors Kim Fields and Jermelle Simon Talk Representation & the Return of Sitcoms
The actors share what makes 'The Upshaws' so special and how representation and family dynamics play a big role.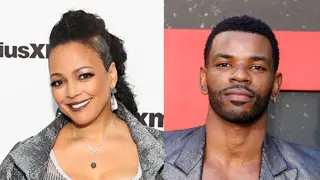 Kim Fields is back on our screens as the Netflix original comedy series The Upshaws has released its first half of season two and it's guaranteed to have you laughing out of your seats with the whole family.
BET.com chatted with Fields and Jermelle Simon, who plays Bernard Upshaw, about the second season, the importance of queer representation onscreen, and why sitcoms are still needed.
BET.com: In this season, Regina assumes Bernard is stepping out on her and he appears to be acting differently, let our readers at BET.com know some of the key signs if their significant spouse is stepping out.
Kim Fields: I don't know what they should look for because everybody is different. In the Upshaws world, Regina Upshaw knows to look for all the signals that she experienced before, which ended up with Bennie having Kelvin from the break they had. Her sister, Lucretia, tells Regina he's going to work dressed up looking like "Jake from State Farm" and Bennie isn't where he said he would be which is at work and he's trying to explain to you he's there — so there are those kinds of signals. There are things her sister Lucretia puts in her head that signal something isn't right and there's a number that keeps calling that isn't connected to the shop so something is amiss.
BET.com: Bernard gets a pretty huge surprise as he apparently has a daughter from a hookup in his high school days. How do you think this will bring your character and Bernard together as father & son?
Jermelle Simon: I think he'll realize there is no manual to fatherhood. You kind of go out there and give it your best, hoping it lands and sticks. I think with Bernard raising [Sydney] or at least trying to raise her and catch up in her life, he'll realize it's not easy and there's a lot of gray area making him more understanding when it comes to his father Bennie.
BET.com: What's one of the best lessons you learned from your own parents and what's one thing you would do differently with your own children?
Simon: My mom always taught me to never rely on people to make me happy. I've learned that that is one of the biggest lessons for me because I enjoy my own company and I can be genuinely happy and not have my happiness be attached to ever-changing things like careers, people, and relationships. Life is forever changing and evolving — I never want to attach my happiness to that so I attach it to myself. I would do the same thing with my children by letting them know that the best thing you can do is to feel good and to be at peace — however that looks like to you. I would like for them to go to college, but if it's something else that makes you happy, then follow your bliss and I think it's just really important to follow and chase your bliss more than anything else.
BET.com: Sitcoms seems like a dying genre but it looks like you're hoping to keep it alive with this series. Can you share the best part about working on a sitcom in today's time and how it differs from back then?
Fields: I think to reverse engineer and share what I think is the same, which is the production standpoint as people enjoy multi-cam because your work day is shorter from the rehearsals to filming — filming in front of a live studio audience is like doing theater and you get that instant response. It's a wonderful, engaging experience with the audience. I feel the storytelling hasn't changed. Norman Lear just celebrated his 100th birthday and he's a real trailblazer in the sitcom space — with him being a beacon for Wanda [Sykes], Mike [Epps], and Regina [Hicks] creating this show, his shows were really at the forefront as a template. They wanted to make sure things were really funny and of course very messy characters and storylines that were complex but relatable to what's happening in today's society. Asking questions of how do people talk and engage with one another in situations. I feel like that's making a comeback if you will — people have been through so much on a global level that everyone really needs a laugh. Wanda [Sykes] always says laughter is the best medicine and it really is. I feel that's one of the reasons why comedy will always have a place and a role in the lexicon of content because people need that and want to see themselves. In a way, it holds up a wonderful mirror and I love that.
BET.com: Regina and her sister seem to have had a sibling squabble this season and you have a sister of your own, Alexis Fields. Have yall ever had a big squabble before and how do you make sure as sisters to effectively communicate to not get there?
Fields: We had a really funny moment a few months ago [laughs]. I actually thought Alexis had blocked me on her phone. She wasn't really answering my texts or my calls and that's not like us because we're very close even though we're almost 13 years apart. I felt it was very strange so I DM'd asking if she blocked me. She responded and said how I blocked her [laughs] and I didn't even know how I did that. You know on IG when the text slides over and you can either pin or block someone? So I had apparently blocked her and didn't know it. But then the question I thought about is "well b*tch, why you didn't ask if I blocked you?" [laughs]. We had a good giggle about that. It was a teachable moment for me in the tech space. To further answer your question, I would say open communication is what Lucretia and Regina have. The only thing is what they choose to say to each other is mind-blowing [laughs]. I share so many moments with Wanda in our characters like did we really just say that? The writers' room is so fire and so brilliant.
BET.com: It's becoming so normalized to see gay representation onscreen and Hollywood continues to showcase queer characters aren't a monolith from your character, Uncle Clifford and Lil Murda in P Valley, and many other characters. What's the best part about being amongst a list of actors pushing to make sure Queer characters are seen properly and how do you conduct your research to make sure your character is as authentic as possible?
Simon: Great question. I love all the new gay representation. I try to bring myself to the role as much as possible like who I am as a person — I try to bring authenticity to the role and it happens to work. What I love about [The Upshaws] is how normalized Bernard is — he's a man who so happens to be a gay man and not the bit of a joke. The audience gets to see his life and see how he dates — we show visibility. Our writers don't want to make my character this traumatic storyline or emphasize how he's dating a man, kissing a man, or having a boyfriend. I think that's really important to see and the writers are doing a great job showcasing that with our characters.
You can watch the second season of The Upshaws on Netflix now. 
---
*This interview has been edited for length and clarity
Ty Cole is a New York-based entertainment reporter and writer for BET.com who covers pop culture, music, and lifestyle. Follow his latest musings on Twitter @IamTyCole.