Lizzo Faces New Lawsuit Amidst 'Quincy Jones Humanitarian Award' Recognition
A former employee alleges that the Grammy winner cultivated a toxic work environment that promoted bullying.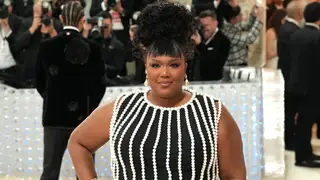 Lizzo's legal woes persist after the Grammy Award-winning artist faces another lawsuit from a former employee who alleges that the "About Damn Time" singer fostered a toxic work environment marked by bullying, racial discrimination, and other mistreatment.
On Thursday, (Sept 21), fashion designer Asha Daniels filed a Los Angeles Superior Court alleging that she suffered verbal and physical abuse from Lizzo's wardrobe manager, Amanda Nomura.
Daniels, who worked in the singer's wardrobe department for her 2023 tour for less than a month, also claimed Nomura made "racist and fatphobic" remarks and would mock both Lizzo and background dancers "by doing an offensive stereotypical impression of a Black woman."
While Lizzo herself is not directly implicated in the harassing behavior, both she and her management team are accused of failing to address the issue. Nomura reportedly often referred to the performers as "fat," "useless," and "dumb" and made them change in front of mainly white male staff who would "lewdly gawk," per the suit.
"I was listening to this Black woman on this huge stage have this message of self-love and caring for others and being empathetic and being strong and standing up for others," Daniels told NBC News. "And I was witnessing myself, the dancers and the background vocalists, and my local team in every city be harassed and bullied regularly."
Daniels was eventually fired after she voiced her concerns about Nomura.
The latest suit comes just as Lizzo was set to receive the Black Music Action Coalition's Quincy Jones Humanitarian Award for her philanthropic work and commitment to social justice.
A spokesperson for the star said in a statement that lawyers for Daniels were trying to "sully" the moment.  Last summer, several of the "Juice" singer's former dancers—some of whom settled— sued for alleged sexual, racial, and religious harassment. Lawyer for the star called the ordeal a "sham" and announced plans to counter-sue.