Report: Phaedra Parks Is Begging To Get Back On 'RHOA'
Here's how producers allegedly responded...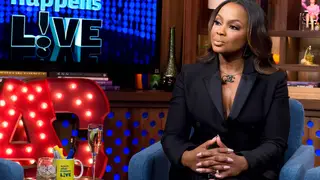 It's hard out there for former reality stars. Once that gig vanishes, what are you going to do, especially when you have been outed as liar like Phaedra Parks.
As we all know, after Ms. Parks was caught lying about Kandi Burruss' lesbian sex dungeon, she got the boot from Real Housewives of Atlanta. Now, it looks like she is begging to return to the show.
According to TheJasmineBrand.com, Phaedra is struggling financially and is forced to sell one of her homes for income. She is missing that Real Housewives of Atlanta cash, "An insider claims that Phaedra has touched base with RHOA producers in hopes of her returning to the show in some capacity." The site also reports, "She has been in constant contact with producers asking to make a cameo or be part of the series in some capacity. They have repeatedly declined her offers because she no longer has an organic relationship with any of the season 10 cast members." Organic relationship? No one on reality shows have organic relationships! 
Allegedly, Phaedra even offered to share more personal details about her life but the producers still weren't convinced to bring her back.
All of that said, don't be shocked if Phaedra pops up next season. These reality shows are about money and ratings, not "organic relationships." 
For more on Phaedra Parks, watch the BET Breaks video, above.