Strut, Sis!: Fantasia Rocks A Sexy Latex Look And 6-Inch Stilettos For A Fabulous Day Trip
Start scrolling with pictures from her "American Idol" days.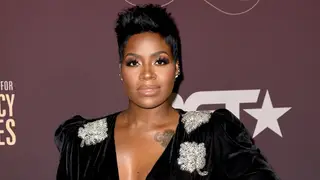 Fantasia often proves she's an American Idol.
Since entering our lives in 2004 by winning the third season of the popular music competition show, Fantasia has been more than an amazing singer, she's been a fashion risk taker! 
From dressing in head-to-toe white to rocking a form-fitting sheer leopard bodysuit that embraces every curve, Fantasia's style has continuously evolved since being the spiky haired 20-year-old girl singing in front of three judges.
In honor of her greatness, take a look at the R&B singer and songwriter's most memorable looks over the years (2004-2021). Trust us, the "When I See U" singer's style transformation has us nodding with approval:
Fantasia Is Serving Up Heat In This Latex Look!

2004

2005

2006

2007

2008

2009

2012

2013

2014

2016

2017

2018

2019

Fashionable Looks In 2020:

2021: We seriously adore her pregnancy photos!

2021: Fantasia Debuts A Fierce Burgundy Pixie Cut

2021: Fantasia Is Looking Good! See Her Before And After Photos Since Losing 40 Pounds.

2021: Fantasia heads out for a night on the town in a trendy denim and shearling trench coat by Azalea Wang.