Mendeecees' Baby Mama Slams Him And Yandy Smith On The 'Gram
She's back.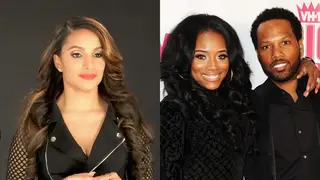 Love & Hip Hop: New York star Mendeecees Harris is currently serving time behind bars, but that hasn't stopped his ex-girlfriend and baby mama Samantha Wallace from slamming him and his lady, Yandy Smith, on social media.
Samantha recently took to Instagram to blast Mendeecees and Yandy, her child's stepmother, for their allegedly fake behavior.
Judging by her words, she was tipped off after seeing Yandy wishing her son, little Mendeecees, a happy birthday. She claims the reality star has been making it seem as though she and her incarcerated hubby have been active in the child's life when they haven't, going as far as to call Mendeecees an absentee father.
"It is just not enough to wish him a Happy birthday," she wrote. "Every year around this time LHHNY is about to air, all the phoniness come out."
Take a look at the full post below:

The eighth season of Love & Hip Hop: New York is scheduled to premiere later this month.
Get more Love & Hip Hop news with BET Breaks above.