Black Colorado Ranchers Arrested After Claims They Are Targets Of A Racist 'Reign of Terror'
The local NAACP says a dispute between neighbors has seriously escalated.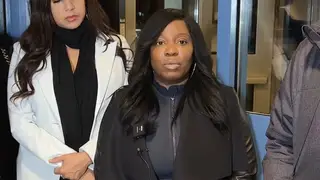 Courtney and Nicole Mallery are Black ranchers who own a 1,000 acre property they call Freedom Acres, which sits in the predominantly White area of El Paso County, Colorado. But they say their lives recently have been anything but home on the range.
The farming couple claims they have suffered racial harassment, resulting in their livestock being slaughtered, tools destroyed, surveillance equipment broken, and property vandalized. The Mallerys also allege they have been chased and harassed by unknown White people. While all the details are unclear, the NAACP said it appears to be a dispute between neighbors that has been ongoing since 2021, but escalated in March of last year.
Portia Prescott, president of the Rocky Mountain NAACP, told Colorado Public Radio, "You don't ever know who's telling the truth and who's not telling the truth."
The story would eventually go viral after a Jan. 16 feature in the ARK Republic. That same month, the Mallerys started a Change.org petition, which has over 4,000 signatures, calling for the removal of an El Paso County sheriff's deputy, stating, "The individual leading this reign of terror and trauma is our own Deputy Emory Ray Gerhart, with the rest of our local police force participating in the abuse and following his lead. It's incredibly sad, disheartening, and hurtful that those who have sworn to 'serve and protect' are the reason my family and I have had our land and our lives threatened." They accuse Gerhart of being corrupt and racist.
The Mallerys have requested  an independent investigation into their claims by the Attorney General of Colorado.

By Feb. 2, the El Paso County Sheriff's Office released a statement "vehemently" denying allegations of racism and adding they have "investigated 19 different complaints filed by and/or involving the individuals identified in the article against members of the Sheriff's Office." They also promised to release "body worn camera video, upon request through the records request process," which hasn't happened as of yet.
According to CBS Colorado, things took an even more bizarre turn on Feb. 6 when Courtney Mallery, 41, was arrested on a warrant for felony stalking. The exact details of Mallery's arrest have not been made public and the El Paso County Sheriff's Office declined to talk to CBS.
Courtney Mallery's bond was set at $6,000, which was posted by the NAACP. He was released the evening of Feb. 7. The Rocky Mountain NAACP said in a statement, "I would really hope that the El Paso County Sheriff's department and several others in rural areas understand that we're taking this very seriously. It needs to be taken a lot more seriously than they have taken it in the past."
This isn't the first arrest. On Nov. 22, Nicole Mallery was arrested on two charges of felony stalking. In December, she posted bond, according to court documents.
Nicole Mallery said at a recent press conference, "We are stalked, we are harassed, we are chased, we are followed, there's been spray paint where they put 'n*****' on items on our home."
She will appear in court today (Feb. 9). Courtney Malllery's court appearance is scheduled for Feb. 14.