Judge Apparently Unconvinced Of Tiger Woods Ex-Girlfriend's NDA Claims
Erica Herman has filed a $30 Million lawsuit against the pro-golfing legend, but she was questioned about an agreement she signed.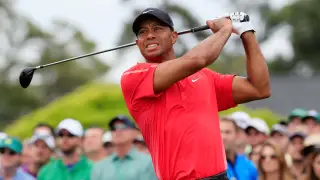 A Florida judge revealed her skepticism regarding claims made by Tiger Woods' ex-girlfriend Erica Herman who is seeking to invalidate a nondisclosure agreement that specifies that a private arbitrator must mediate their legal proceedings, the Associated Press reports.
Throughout the 45-minute hearing on Tuesday (May 9),  Circuit Judge Elizabeth Metzger bombarded Herman's attorney with questions about why the mandatory arbitration clause in the couple's agreement wouldn't invalidate Herman's lawsuit against Woods.
"Contract law tells me I look at the document and I ask, 'Is it valid on its face?' I've got dates, I've got signatures, I've got terms," Metzger said.
Because Herman signed the NDA, Metzger said that her only option would be to nullify the lawsuit which would allow an arbitrator to resolve the dispute.
Benjamin Hodas, Herman's lawyer, admitted that his client had signed an NDA, but requested a future hearing to determine if his client's signature was authentic or if it was forged.
"We don't know," Hodas told the judge. "My client cannot say for certain that is her signature and she does not recall signing this document."
J.B. Murray, Woods' attorney, characterized the question of the legitimacy of the signature on the NDA  as "a bit of a red herring."
"One thing you did not hear Mr. Hodas says is that she did not sign it," Murray added. "They are not bold enough."
Over the course of the hearing, the sexual claims that Herman levied at Woods were hardly mentioned.
Murray said those allegations were "utterly meritless."
Metzger told Hodas that to fully consider the sexual harassment claims, she will need more information.
Also, Metzger informed both attorneys (Both Woods and Herman were not present at the hearing) that she will issue her decision in writing. She did not disclose what date the attorneys can expect the decision.
Per the suit, Herman alleges that Woods is attempting to silence Herman with an NDA she signed while involved in a "personal and professional relationship" with the legendary golfer.
The complaint also states that the agreement should be invalidated under the "Speak Out Act," which prevents the enforcement of NDAs in cases involving harassment and sexual assault.
In October 2022, Herman filed a separate $30 Million lawsuit against Jupiter Island Irrevocable Homestead Trust, Woods' trust citing the entity violated the Florida Residential Landlord Tenant Act. According to Golf Digest, Herman alleges that agreement was breached on Oct. 13, 2022, when Woods abruptly ended their relationship, with "approximately five years remaining" on the oral tenancy agreement.
The suit states  that "by trickery, agents of the Defendant convinced the Plaintiff to pack a suitcase for a short vacation and, when she arrived at the airport, they told her she had been locked out of her residence."
"Even worse, Defendant's agents removed Plaintiff's personal belongings from her Residence and misappropriated in excess of $40,000 in cash that belonged to her, making scurrilous and defamatory allegations about how she obtained the money," the complaint continued.