Director Allen Hughes Recalls Firing Tupac On The Set Of 'Menace II Society': "I Didn't Understand What Was Going On"
Hughes also comments on the difference between the "California Love" artist and Snoop Dogg.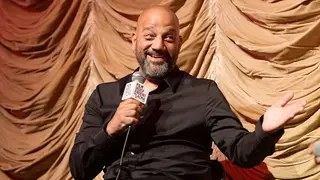 Director Allen Hughes revealed he fired Tupac after casting him in Menace II Society for his "erratic" behavior on set in an interview with the popular platform The Art Of Dialogue.
"We would try to rehearse, and he would just say s*** and do s***, get up, and he was just erratic," Hughes said.
"And I just didn't understand what was going on. And everyone was laughing because he was funny. He was going nuts pacing back and forth in my office. He was very passionate, and I can't remember what he was complaining about. But then he said to me across the room, he goes, 'Why you smiling, N-word?
Hughes also commented on Tupac's persona in the interview, sharing that the late rapper was "delusional in a positive way" when asked about the difference between him and Snoop Dogg.
The Menace II Society director shared Dogg is a "real street guy out of all these guys" while the "California Love" musician is "not a street kid."
"2Pac on the other hand, while he came up in the inner city or the urban fucked up ghetto, he's not a street kid," said Hughes
He's an artist and an activist. He's a performance arts kid and he's delusional. He's just delusional … in a positive way. You have to be delusional to be a great artist. The thing I think 2Pac was addicted to the most was when I think back was, when he's in a room like this and he sees us all reacting to whatever he's saying, especially her [pointed to a woman in the room], any woman if they're smiling he goes to 10. You thought 10 was the level; he's at 50 now. And he's so charismatic that he lost himself in his power to move a room."
You can watch the full clip below.