Dame Dash Had A Bold Choice Of Words For Jay-Z And His NFL Deal
"It's not even a secret."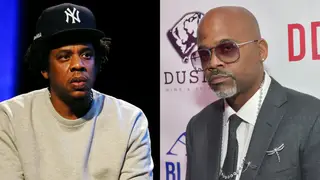 Everyone has their own opinion on Jay-Z's partnership with the NFL, running the gamut from bad, to good, to ugly. Allegations that the Roc Nation figurehead snaked Jermaine Dupri has only widened the divide between those for Jay and those against him.
As the saying goes: speak now or forever hold your peace, and Roc-a-Fella head Dame Dash decided to weigh in with his two cents, and kept it a whole buck. Forget shade. Dame wanted some serious smoke. 

The record label executive had the entire internet jumping up out of their beds bright and early Thursday morning. Dame recently sat down with Adam22 for his No Jumper podcast, which was just published on August 22, and the 48-year-old let it all hang out while speaking with the radio personality.

Adam pondered whether Dame, who has his own complicated business history with Hov, was surprised by Funkmaster Flex's assertion that Jay convinced Jermaine to pass on working with the NFL only to turn around and backstab him to secure a deal for himself. Keep in mind, Jermaine himself said Jay never tried to talk him out of a deal with the league. 

'I mean, everybody knows Jay ain't sh*t. Listen, if you ask anyone in the industry...'

"...it's common knowledge that Jay ain't sh*t," Dame proclaimed matter-of-factly. The music mogul stated that Hov is only looking out for himself and that the partnership with the NFL is purely for his own financial gain. 

"He's about the bag. We all know that. He's self-preserving. Period. It's just that the people he does it to don't have Beyoncé next to 'em. They don't have that kind of power, but this dude here, everyone's looking," Dame continued. "It's not even like a secret. He did that sh*t to me with girls. You know what you are dealing with when you dealing with Jay."

To illustrate his point, Dame compared Jay to Donald Trump.

Despite the blowback, Dame contends that Jay-Z is like Teflon Don, and the criticism won't stick. 

"There's always been a pattern with that dude. Everyone always forgives him," Dame concluded. "He's like Trump in that way. He could do anything, say anything, and everyone goes with the populist sometimes."

Hear Dame Dash's thoughts on Jay-Z's NFL deal and his other views on the music business in the full hour-long conversation with No Jumper below.