Who's The G.O.A.T. Rap Crew? Wu-Tang Clan vs Juice Crew | Round 2
In the tournament to decide the greatest rap crew of all time, this Round 2 battle is between the Wu-Tang and the Juice Crew.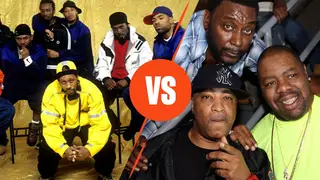 In recognition of hip hop's 50th anniversary, BET Digital, in partnership with Ambrosia For Heads, is celebrating the culture by hosting a bracket-style competition that allows you to determine hip hop's greatest crew.
Rather than having "experts" tell you who is the greatest of all time, this is your opportunity to collectively make that decision. After giving the opportunity to any and all fans to provide feedback on which crews should be included, 32 collectives from different regions, styles, and generations have been selected—all vying for that #1 spot. When the final battle is over and the last vote is cast, you will have determined who is your Greatest Rap Crew of All Time.
In this celebration of hip hop and all of its talented crews, your vote decides the winner, so vote below.
Wu-Tang Clan vs. Juice Crew | Round 2
Round 2 begins with an East Coast heavyweight clash. During the late 1980s, the Juice Crew put on a show for Queens, New York, with an elite crew of rap lyricists, even while representing other boroughs. In the 1990s, Wu-Tang Clan branded its Shaolin identity with a similar approach—assimilating like-minded talent from Staten Island and neighboring areas. These crews flaunted their tight-knit bonds in different ways. While the Juice Crew used posse cuts and stage shows, Wu-Tang extended to make albums as a unit. While GZA's career reportedly included an early offer to join the Juice Crew, projects like "Chamber Music," Ghostface Killah's "36 Seasons," and the "Afro Samurai soundtrack" demonstrated chemistry through collaborations between various Wu and Juice Crew members. Juice Crew paved the way for Wu-Tang, and Wu could capitalize on crew projects in a way that their predecessors did not. Wu-Tang defeated Dreamville to make Round 2, while the Juice Crew knocked out the Native Tongues to advance. Both of these squads are legendary, but only one can reach Round 3.
Wu-Tang Clan
(Defeated Dreamville in Round 1)
In the early 1990s, a band of rap outcasts united to take the sound of hip hop to a new frontier of ruggedness. Wu-Tang Clan is a nine-member core group that includes RZA, GZA, Method Man, Inspectah Deck, Ol' Dirty Bastard, Raekwon, Ghostface Killah, Masta Killa, and U-God. However, the larger Wu-Tang family tree features branches such as Cappadonna, Killah Priest, Shyheim, and other lyricists and producers. This unit has shaped culture through classic albums, indelible songs, and one of the most recognizable brand logos of the last 30 years. A bonafide classic group debut in 1993, "Enter The Wu-Tang (36 Chambers)," laid the foundation for Wu to win without chasing radio or trends.
The Juice Crew
(Defeated Native Tongues in Round 1)
The Juice Crew brought the unity and spirit of the 1970s rap crews to the recording era. Hip hop radio pioneer Mr. Magic (aka "Sir Juice") hosted a platform on WBLS-FM alongside DJ Marley Marl, who, by the mid-1980s, had become one of the most innovative producers in the genre. The Queensbridge native also possessed an incredible eye for talent; he assembled a lyrical all-star squad that eventually included Roxanne Shanté, MC Shan, Craig G, Biz Markie, Kool G Rap & DJ Polo, Big Daddy Kane, Masta Ace, and others.
Regarding its place among the great crews of hip hop, the Juice Crew helped set the gold standard for lyrical talent, competitive spirit, and the ability to balance swagger with substance.
---
EDITOR's NOTE: Register for the sweepstakes for a chance to win the grand prize of two (2) tickets to the 2023 BET Awards, two (2) round-trip airline tickets, and a 2-night hotel stay on June 25. Up your chances to win by voting weekly.
NO PURCHASE NECESSARY TO ENTER OR WIN. VOID OUTSIDE OF THE 50 U.S. & D.C. AND WHERE PROHIBITED BY LAW. Open to legal residents of the 50 U.S. & D.C. who are 18 years of age or older at the time of entry. Ends at 12:00 p.m. ET on May 1, 2023. Official Rules: bet.com/grcoat-official-rules  Sponsor: Black Entertainment Television.