See The Hashtag Supporting Black Men That Is Causing An Internet Frenzy
It's thirst trapping on another level.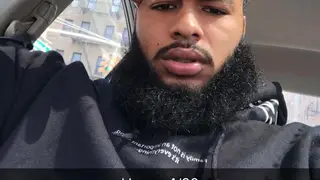 Black men and beards taken the term "eye candy" to new heights.
Recently, the Twitter-sphere blessed us with the hashtag #BeardGameMatters, boasting some of the sexiest men we've seen in awhile. Of course, we had to ask ourselves what have we done to deserve this shower of bearded zaddies on our feed?
After chatting with Mike, it's no wonder that the buzz-worthy Facebook group is chock full of charmers (and playboys), who post their photos for women to lust after during their workday. 
"It's such a novel idea, if you think about it," shares Mike. "More men are wearing beards now. A lot of professional athletes are wearing beards — it's become a trend [again]."
And he's right. This summer, Kofi Siriboe took our breath away with his perfect beard in the number one movie of the summer, Girls Trip. So, it's no surprise that other celebs like Lil Rel Howery from Get Out are also members of the viral FB group.
Still, the allure of the group seems to come from average men who become inexplicably more attractive with facial hair. The men's personal styles vary, and the photos range from tall, shirtless men playing sports to dapper gentleman wearing three-piece suits. The only requirement for posting is that you must have a beard.
Naturally, the quality of the beard determines the number of likes it receives; some men who post garner as many as 10-100k likes from a single photograph. Many of the women are mostly blown away by the fact that all these hot men have suddenly congregated to one digital space — and they aren't shy about being admired.
"The page allows men to show off their beards, and show other people the type of beard they may have," Mike says. "And ladies who say, 'Hey, I love a bearded man. I wanna see a bearded guy.'"
Of course, the women in the group a key element of the fun. They go wild over the endless stream of thirst traps that have been unleashed by men all over the world. Mike is planning on capitalizing on the action by launching a new spin-off called Beard Game Singles.
"Beard Game Singles is going to be a much more intimate opportunity for individuals to meet others in the bearded community... specifically individuals who are single and want an opportunity to meet each other," Mike explained.
And just to note: the entrepreneur is also single.
It's important to note, Mike isn't the only one who has capitalized off facial hair. I DON'T DO CLUBS founder Genese Cage noticed the trend back in 2015 and launched her infamous MUST LOVE BEARDS parties in New York, Philadelphia, Atlanta, Chicago, and other major cities.
Think of it like a party for men who rock beards and women who can't get enough of them. All men, beard or not, are granted free admission, while women must purchase their tickets in advance at $25+.
"My father has a beard, so I've always been fond of them. Over brunch, my friends and I were discussing everyone's new interest in beards. They later suggested IDDC should host a party for men with beards," shared Genese.
Like BGM, Genese has also created a pro-Black space that not only advocates for of facial hair — but also supports Black businesses. A few brands also inspired the FB page Man Cave Essentials and BigBeard, which launched in July.
Genese explained her own love for the way beards frame faces and add character, which made creating this event a no-brainer for her. Although MUST LOVE BEARDS has been happening since 2015, she did receive comments from her readers about the new kid on the block.
With beards becoming a permanent fixture as a popular phenomenon among all genders, it's important to have both spaces that celebrate the aesthetic of Black people. Both companies are adamant about their underlying mission to support Black love and style, while being welcoming of all walks of life.
So in the end, if you have ever thought about finding yourself a bearded man… well, you can use this as a guide to know exactly where to find him.