Look: Bishop Eddie Long's Daughter Breaks Her Silence On His Death
​The church leader passed away on Sunday.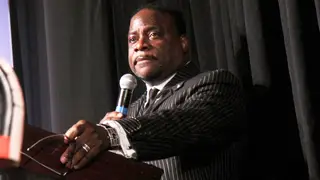 Earlier today (Jan. 15) the sad news of Bishop Eddie Long's​ passing ​broke and was later confirmed by the New Birth Missionary Baptist Church. He was 63.
As countless celebrities, supporters and critics of the longtime pastor take to social media to react to the news and offer their condolences, Long's daughter, Taylor, has also taken a moment to reflect on the loss of her father.
Both Long's daughter and his church confirmed the speculation that he had been privately battling cancer, addressing how he didn't let the illness "kill his faith nor his spirit."
"I love you Dad," Taylor writers, underneath a candid photo of the two posing. "Thank you for being perfect. I cherish every moment I've shared w/ you even up to your last breath. I don't blame God for wanting you back, I would too."
She then goes on to thank her father for being such an incredible role model.
"Everything I do is for you, it's been my honor to be your daughter," she continues. "Thank you for being the greatest example of a wonderful father & husband. You kicked cancers ass! Job Well Done my angel."
His wife of 27 years​, First Lady Elder Vanessa Long, also shared some of her thoughts, which were included in their church's initial statement.
"I am confidant through my belief in God that my husband is now resting in a better place," Vanessa Long shared. "Although, his transition leaves a void for those of us who loved him dearly, we can celebrate and be happy for him, knowing he's at peace."
Our condolences go out to his family, friends and church community ​during this difficult time​.
Take a look at Taylor Long's heartfelt tribute to her father in the posts below.