Tony Rock Fires Off Warning To Will Smith While Addressing Oscars' Slap During Comedy Set
"There are ten Rock brothers, you boutta see all of us."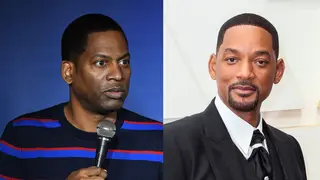 Looks like Tony Rock had a lot on his mind during his recent comedy show on Friday (April 1) and addressed the Oscars' slap that occurred between his brother Chris Rock and Will Smith.
Last week, BET.com reported that Tony confirmed there was no reconciliation between Chris and Will — and it looks like there won't be any with Tony and Will either.
A viral clip is circulating on social media showing the former All Of Us alum speaking about his thoughts on the altercation, implying that all it took for the former Fresh Prince star to strike the comedian was a bit of side-eye from his wife Jada Pinkett Smith.
"I didn't want to start the show like that! You gonna hit my motherf**** brother because your b**** gave you a side-eye?" said Tony.
He continued, letting the crowd know there are multiple brothers within his family that are very protective of Chris as well.
"Oh, it's a lot of Rock brothers — it's ten of us," said the Three Can Play That Game star.
Chris has spoken about his thoughts on what occurred between him and Will, sharing how he is "still processing."
The I Am Legend star is beginning to feel the backlash after the incident with Netflix and Sony halting production on upcoming projects with the actor.
You can see the full clip on Tony addressing the slap below: