Will Smith: Netflix And Sony Pause Projects After Oscars Meltdown
Sony's 'Bad Boys 4' And Netflix's original movie 'Fast and Loose' pump the brakes on production.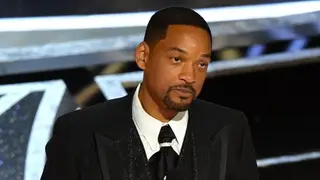 According to The Hollywood Reporter, a few of Smith's upcoming projects with Netflix and Sony will halt production following the actor's on-stage confrontation with comedian Chris Rock at this year's Oscars. Just moments later, he went on stage to accept the Best Actor award for his role as Richard Williams in the 2021 film, King Richard.
Ahead of the 2022 Oscars, director David Leitch withdrew as the director of the planned Netflix original film, Fast and Loose, where Smith would've played a crime boss with memory issues.
Netflix was reportedly competing with Universal for his next directing gig, but Universal withdrew from the race. Netflix urgently put in a call for another director to do another project for the streaming service after Smith was favored to take home hardware for Best Actor at the Oscars.
Smith, 53, shocked everyone when he made his way to the stage where host Chris Rock stood with his hands behind his back, laughing as Smith approached him. Smith smacked Rock after the comedian joked about wife Jada Pinkett Smith's decision to rock a bald head.
Sony has also put an anticipated movie on the back burner: Bad Boys 4. Hollywood Reporter says that Smith received 40 pages of the movie's script before the Oscars.
Apple +'s drama Emancipation is in post-production and had a 2022 release planned, but has not specified an exact release date.
This past Friday (April 1), Smith resigned from the Academy of Motion Pictures Arts & Sciences.
"The list of those I have hurt is long and includes Chris, his family, many of my dear friends and loved ones, all those in attendance, and global audiences at home," he said in the statement.