Cardi B Sounds Off On Gov. Kemp's Decision To Reopen Georgia: 'Health Over Capitalism'
The rapper held nothing back.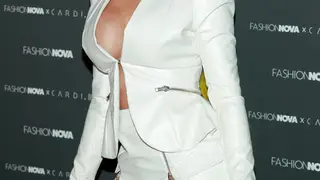 In recents weeks, some state leaders have ramped up talks of reopening their states to offset the economic downturn the U.S. has been experiencing amid the coronavirus. 
The state of Georgia's stay-at-home directive will lift on April 30. Ahead of the order's expiration, Gov. Brian Kemp announced via Twitter that he plans to allow certain establishments to resume business statewide with some restrictions, per social distancing guidelines, in place.
On Monday (April 20), Kemp said that gyms, bowling alleys, and salons will be allowed to reopen as early as this Friday (April 24), while theaters and restaurants can resume business next Monday (April 27). His announcement comes as the number of coronavirus cases in Georgia have climbed to 19,000 confirmed cases.
Baller Alert reshared Kemp's announcement with their five million Instagram followers, and Cardi B popped into the post's comment section where she implored people to still be cautious. 

"I just want to let people DON'T GO AROUND YOUR PARENTS OR GRANDPARENTS!" she heeded. "Once there [sic] sick and in the hospital wit [sic] covid, you won't be able to see how and what they treating them with…Your parents , grandparents or YOU will most likely pass by yourself in a cold hospital with no physical contact with your loved ones." 

She ended her cautionary message with three words of advice: "HEALTH OVER CAPITALISM!"

Kemp's move goes against the advice of public health officials. Dr. Anthony Fauci appeared on CNN's Prime Time where he cautioned states against opening too soon before the coronavirus has had time to peak and start to abate.

"You've got to be realistic. You've got to understand that you don't make the timeline, the virus makes the timeline. So you've got to respond, in what you see happens," he explained to Chris Cuomo. "And if you keep seeing this acceleration, it doesn't matter what you say. One week, two weeks, three weeks -- you've got to go with what the situation on the ground is."