Queen Latifah Makes History as First Female Rapper Included in National Recording Registry
This is a pretty huge deal for our multi-talented rapper.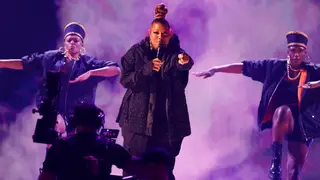 Hip-hop icon and actress Queen Latifah is making history once again. The New Jersey native is officially the first female rapper to have her music inducted into the National Recording Registry, according to NPR.
The annual recognizes a mix of popular songs, radio broadcasts, significant speeches, and more that are considered to define the sound of the country's history and culture. This marks the first time a female hip hop artist and the soundtrack of a video game has made the prestigious list
The legendary entertainer released her debut album All Hail The Queen in 1989 when she was just a teenager. The project includes Latifah's signature songs, including "LadiesFirst" featuring Monie Love.
Carala Hayden, of the Librarian of Congress, spoke about the classic project in a statement stating, "Her album showed rap could cross genres including reggae, hip-hop, house, and jazz — while also opening opportunities for other female rappers."
Latifah now joins 25 others who've had their records added, including Madonna's "Like a Virgin," Mariah Carey's "All I Want for Christmas Is You," and Daddy Yankee's smash hit "Gasolina."
The Hollywood veteran made history more than 20 years ago when she became the first female emcee to earn an Academy Award nomination for her role in Chicago. In 2006 she became the first rapper to receive a star on the Hollywood Walk of Fame.