7 Essential Queen Latifah Songs And Acting Roles To Celebrate Her Birthday
The legendary entertainer turns 53 on Saturday, March 18.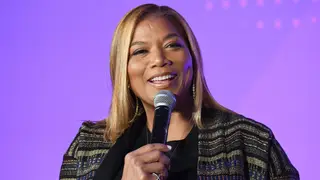 Queen Latifah's career in entertainment has spanned over five decades – first starting as a trailblazing and pioneering emcee during the 1980s and now as a leading role on CBS' popular show The Equalizer. For her work and influence, she's received a Grammy, an Emmy, a Golden Globe and is the first hip-hop artist to receive a star on the Hollywood Walk of Fame.
On Saturday (March 18), the multi-hyphenate talent will turn 53, so in honor of her and her accomplishments, we've compiled seven memorable music and movie appearances made by the Queen to provide her with some birthday flowers.
"Ladies First" With Monie Love (1989)

When you think Queen Latifah's early music career, All Hail The Queen has to come to mind. The groundbreaking 1989 album was a seminal moment proving that women have bars too, and that couldn't be more evident on the LP's single "Ladies First." The song is an anthem for women's empowerment, calling for liberation and rights. To this day, it's still one of the best examples of social commentary hip-hop has had to offer in its 50-year history.

Staring As Cleopatra "Cleo" Sims In "Set It Off" (1996)

Who could forget Latifah's role as Cleo in Set It Off? Not only was it one of her first significant roles on the silver screen, but it proved she had the acting chops for some of the more blockbuster roles she'd earn later in her career. One of four friends who go on a bank-robbing spree, Latifah effortlessly relays Cleo's hard-headed aura with her affinity for and loyalty to her friends. Her portrayal of an unabashedly queer woman during the mid-'90s is also highly noteworthy.

"U.N.I.T.Y." (1993)

Similar to "Ladies First," "U.N.I.T.Y." is a social commentary about the disrespect of women in society, which addresses domestic violence, street harassment, misogyny and more. The single is from Latifah's third album Black Reign and won the New Jersey native a Grammy in 1995 for Best Rap Solo Performance. It's also her only song to reach the Top 30 of the Billboard Hot 100.

Starring As Khadijah James On "Living Single" (1993-1998)

An inspiration for Friends, Living Single centers around four Brooklyn friends and their personal and professional lives. Starring as Khadijah, Latifah portrays the editor and publisher of Flavor, an independent urban magazine as she works alongside her cousin and roommate Synclaire (portrayed by Kim Coles). During its run on air, the Fox sitcom proved a need and market for stories about successful Black women and it proved to both be a launching point for Latifah's acting career as well as an on-screen example of Black women working hard to achieve big dreams.

Starring As Matron Mama Morton In "Chicago" (2002)

Everything characteristic of Matron Mama Morton in Chicago is one of Latifah's in real life: smart, witty, and someone who sees through the BS. And while the 2002 film offers her numerous scenes to show off these traits, perhaps none is more iconic than Latifah's hypnotizing feature song "When You're Good to Mama." Basically, she's all about the money, respectfully.

"Just Another Day" (1993)

A single from Black Reign, "Just Another Day" is simply about what a normal day in Latifah's native neighborhood looks like through her lyrics. And while it's a warm reminiscing about her block, it also relays the problems of crime, police presence and general danger that lurks in the background. Upon its release in 1993, the track peaked at #54 on the Billboard Hot 100 and remained on the chart for more than 10 weeks.

Starring As Bessie Smith In "Bessie" (2015)

It was almost too on the nose for Latifah to play Bessie Smith and while promoting the film in 2015, she said as much. "I had no idea our lives would parallel in certain ways that would allow me to really tap into things the I know she probably felt," the actor noted, according to EW. It's that tapping in that not only had Latifah effortlessly capturing the legendary larger-than-life 1920s blues singer but also securing an co-producing Emmy for Outstanding Television Movie.