Michael Rainey, Jr And Cory Hardrict On Militarization of Police, Nicolas Cage And Their Worst Phone Fails
Their new film, "211," explores boundaries of law enforcement.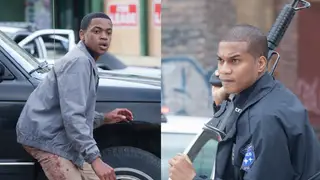 Michael Rainey Jr. is looking forward to not being hated for once. The 17-year-old actor stars beside Nicholas Cage in the bank heist drama 211. Rainey, who is known by many as the troubled son, Tariq St. Patrick, on Power, plays a bullied teen named Kenny who finds himself spending the day with a police officers (Mike Chandler played by Cage) after getting in trouble at school. However,  the disciplinary ride along does more than scare Kenny straight when they run into a gang of heavily armed thieves in the middle of a bank robbery.
The events of 211 (police code for robbery) are inspired by one of the bloodiest police stand-offs in American history, 1997's The Battle of North Hollywood. Two heavily armed robbers engaged police in a 44-minute stand off that left 11 officers and seven bystanders injured and the two gunmen dead.
The resulting bloodshed lead to policies where police officers' pistols and shotguns were upgraded to automatic weapons and armor plated vehicles.
"Ever since the North Hollywood shootout a lot of things have changed ... the firepower, the body armor," says LAPD Officer William Lantz, who was a rookie at the time. "Everybody knows about the North Hollywood shootout."
In the fictionalized account Cory Hardrict plays Hanson, one of the officers who arrives on the scene, and he feels the cops should do what is necessary to protect themselves from heavily armed gunmen, but within reason.
"It's tricky because if there is a like robbery heist involved and there are people (hostages) in there, I think it puts the people in danger (too). If you're dealing with tanks, weapons like that, the artillery travels and you can kill innocent people and hurt innocent people. Those stand-off situations are tricky. I personally wouldn't want armored vehicles in if I was in the police, but police should use their own discretion. They're professionals, but have to use your own judgment."
"Somewhat it is necessary because you can't have police getting outgunned by robbers, so they need the right weapons," says Rainey. "But like he was saying, armored trucks and tanks can be dangerous to the innocent people. So you have to use your own discretion."
A key part of the film is Kenny's interaction and dependence on his cellular phone, so we asked the two stars some fun questions about the mobile phone struggle.
"The worst place I dropped my phone and it was out of reach was in the side of the seat in my car. I never drop my phone [but] that's the worst!" says Michael.  Watch the full clip below to see if they would ever switch phones with each other and when is the worst time for your phone to die.